Last time,
There was college, Alexander found a girl, Mia dated, Elena had a demon child, and nearly everyone got pregnant.
OMG GUYS, I am SO SO sorry about how long this took to get up. I've been way busy and flakey…but, if it makes up for it a little, this is a double post! And there will be another one coming macro soon!
Warnings: VERY LONG POST (over 200 pics), Demon Children, cheating, vampires, lots of fighting, lots of toddler spam…the usual crack.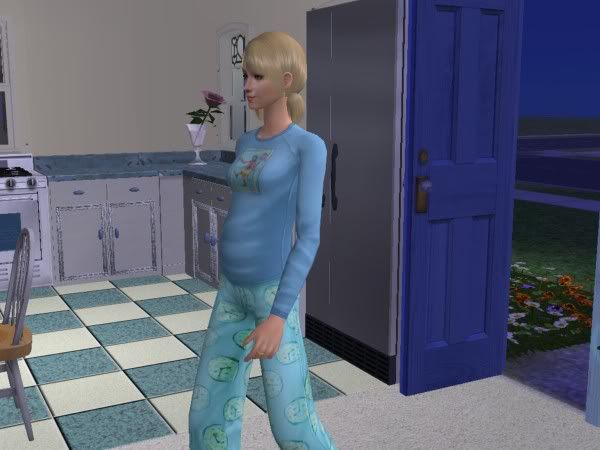 Ashley is still very pregnant.
And the grandparents are still at it!
Sarah decides she's going to paint a portrait of her favourite heir.
And Hemat and Elena are GOOD parents.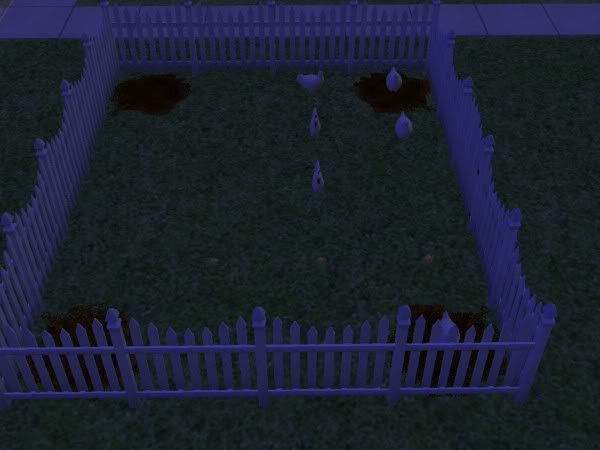 Also, the chickens are breeding.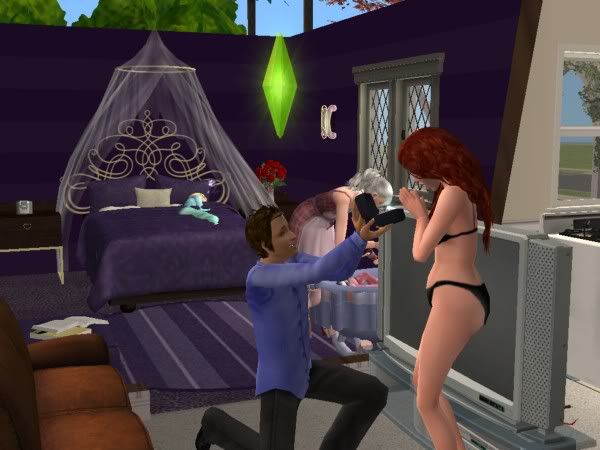 Hemat finally, finally, finally proposes, and Elena is very pleased.
And Mia, well…Mia's pregnant! And stinky.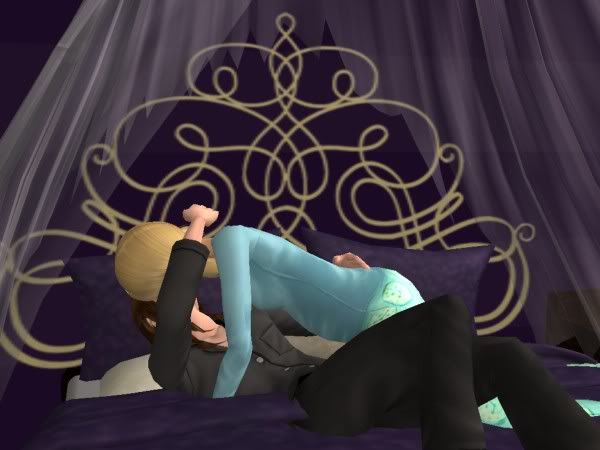 This is about all Alexander and Ashley do all day. They're in that newly-weds stage.
And she never, ever changes out of her pjs.
Mia tries to take care of her nephew…but Mongo is displeased.
He'd rather laugh at his daddy in the hot tub.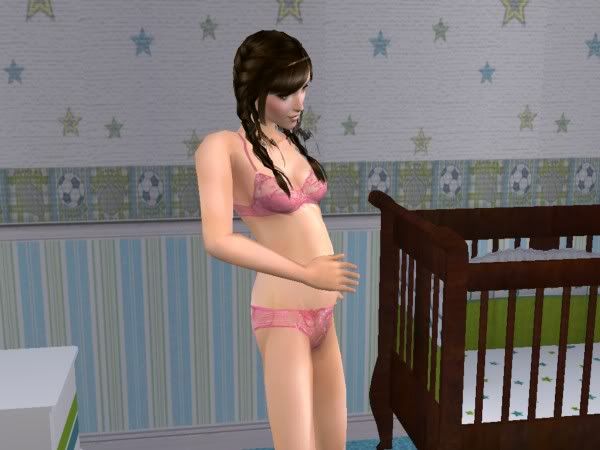 Mia continues to be awesome by talking and rubbing her belly.
And taking care of the children while Elena and Hemat woohoo…
That's right Teddy, just look that way.
Mongo eventually warms up to his aunt, which is good, because they look adorable together.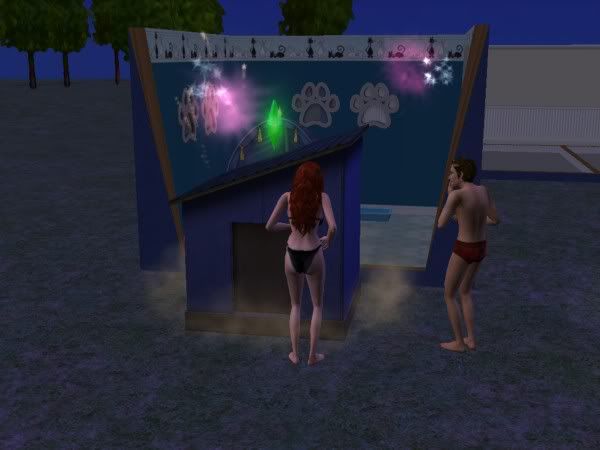 And kitty woohoo turns them all into 10 year olds.
Elena:
*thinks it's an AWESOME idea to make friends with a vampire*
That's what Sarah thought about the wolf, too, remember?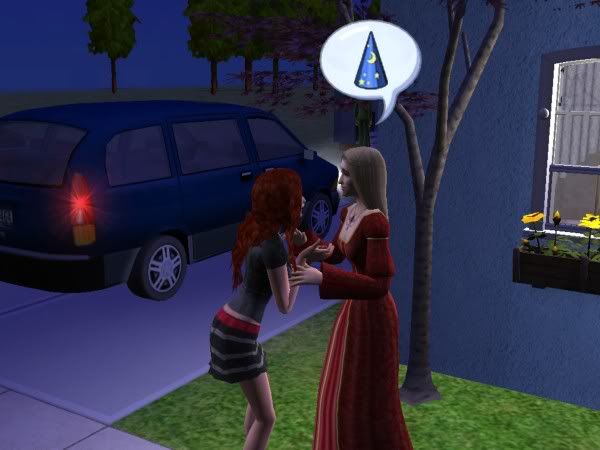 She's so cool, she even knows Harry Potter!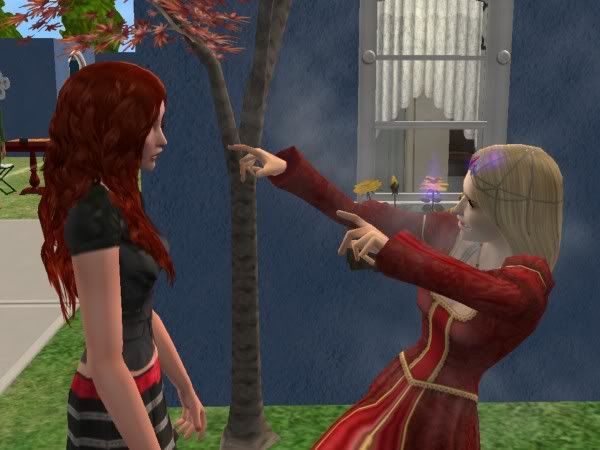 Countess:
Bippity boppity boo!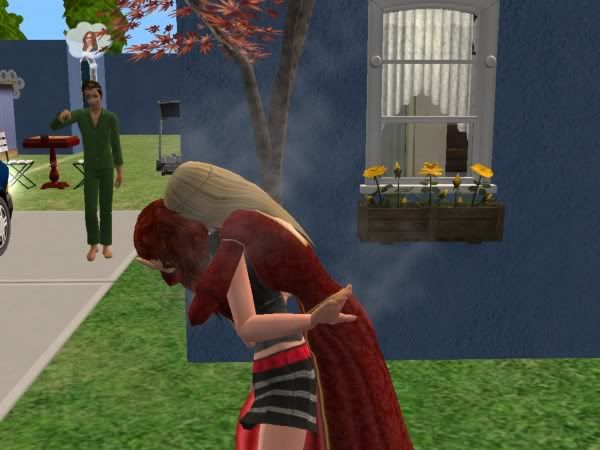 Elena gets bitten. Hemat thinks that is HAWT.
Elena:
Arrrrrrrrrrrgh!
Elena:
*hisssssssssssssssssssssssssssssssssssss
sssss*
Okay, Hemat, I agree. She is hot.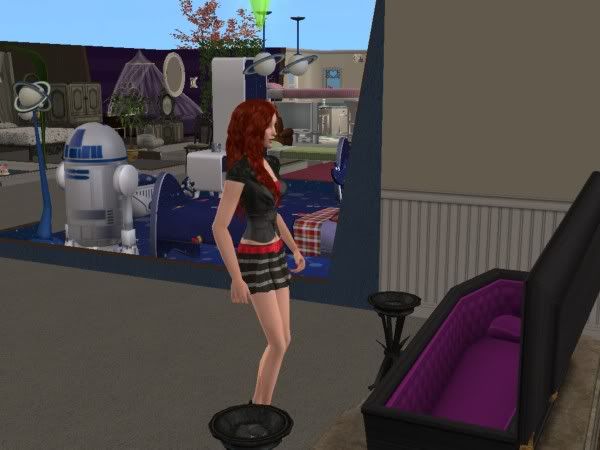 And because she is a smart vampire, she goes inside and to her coffin, quickly.
The Countess, however, is not so smart.
In fact she's sorta suicidal.
Congratulations, random NPC vampire, you get to be the first death in this legacy!
Apparently this calls for a HUGE FAMILY GATHERING.
Except for Elena.
I'd be surprised too if my belly was suddenly much larger!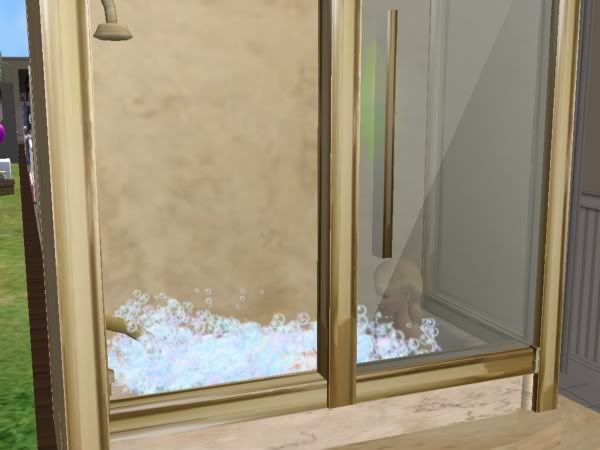 Ashley takes a well deserved bath. And this is just me squeeing over how cute she is, so carry on.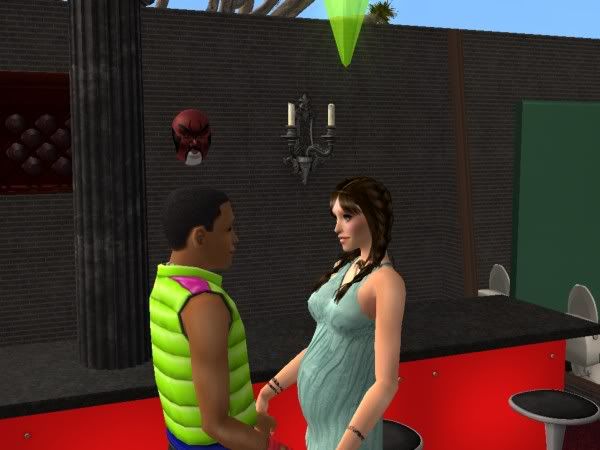 Mia gets called out on another date. Don't look so surprised, sweetheart.
You're very lucky he said yes, dear.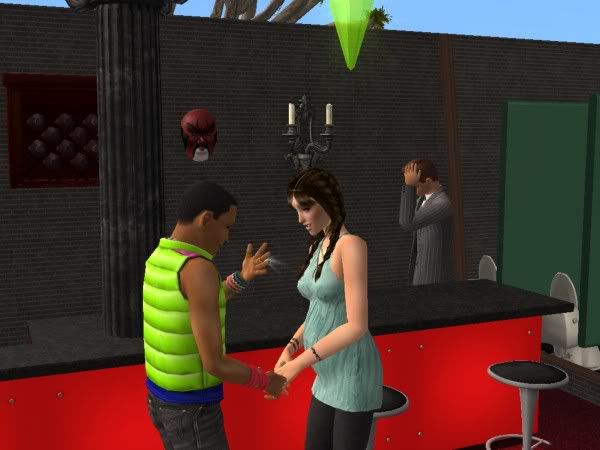 Dude:
FABULOUS!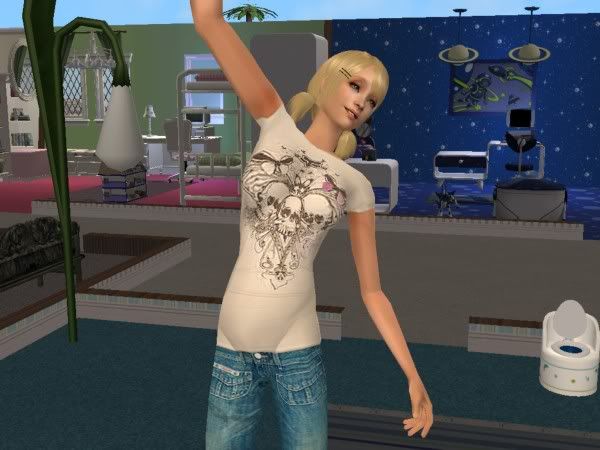 Ooh, it's wavey time!
Meaning flail around in pain until the baby pops out of thin air, time.
Yes like that.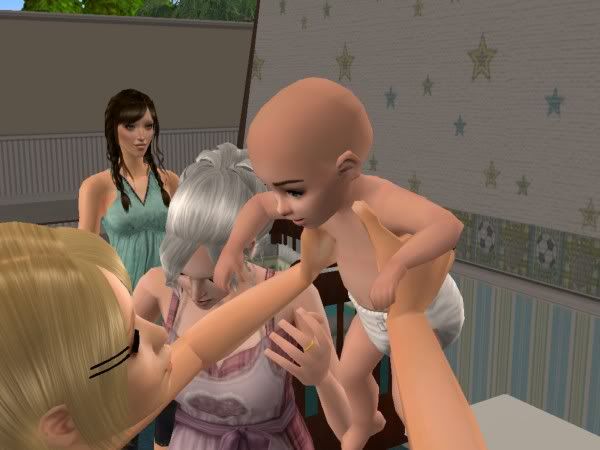 Sarah, don't look so upset! It's rude!
A boy! Mommy's grey eyes, Daddy's hair.
His name is Phillip.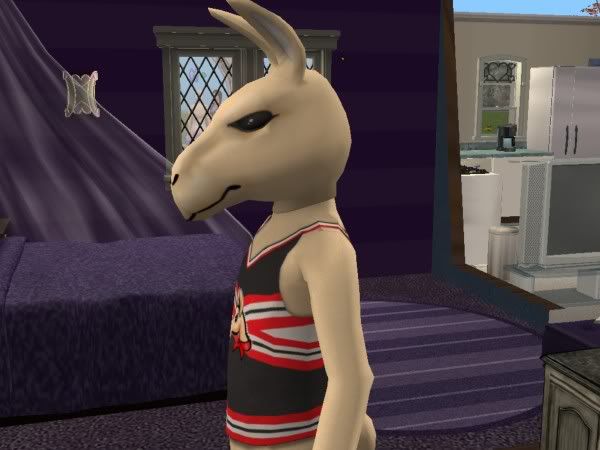 After her son's birth, Ashley decides to RANDOMLY CHANGE INTO HER LLAMA COSTUME.
And then it's birthday time for little Mongo and Alyana.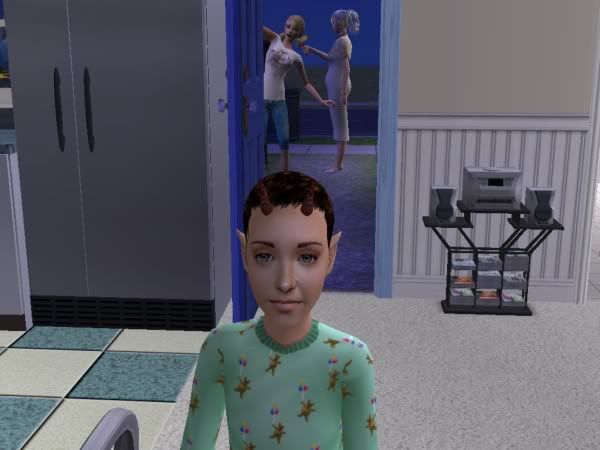 Mongo is apparently going to grow into his horns, and not out of them.
And Alyana is pretty like the rest of her family.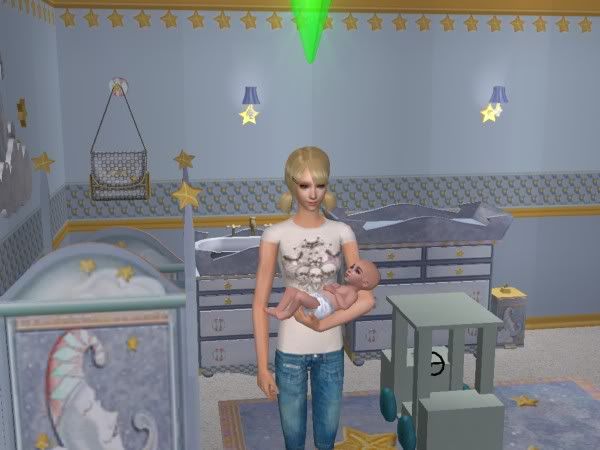 This is Nursery 2 (Which it still scares me that they need.) I love it and want it.
Throughout the house, joy is in the air.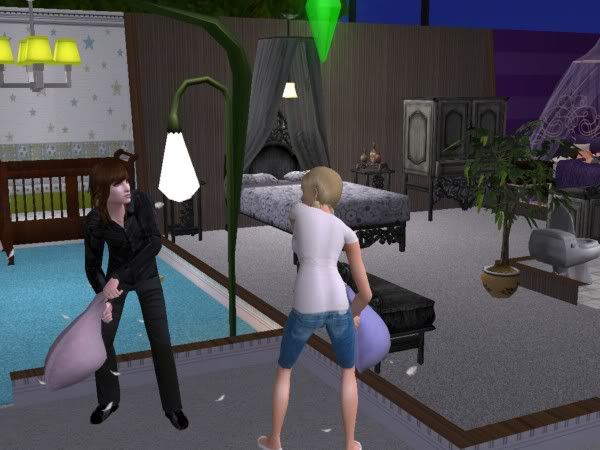 Even the adults are playing!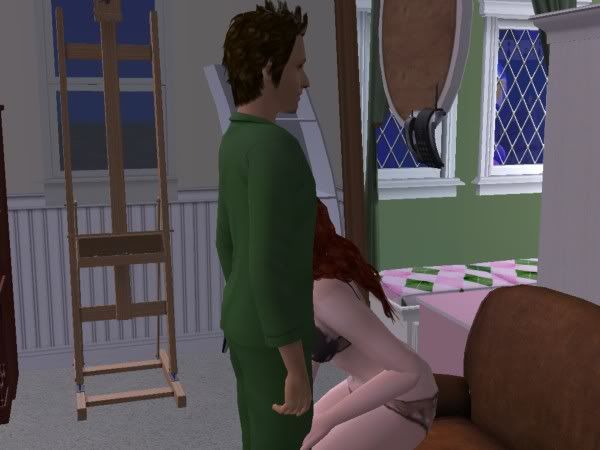 …Um.
Mia decides the appropriate birthing attire is formal wear!
There is much screaming involved.
Mia:
:o
It's called a baby.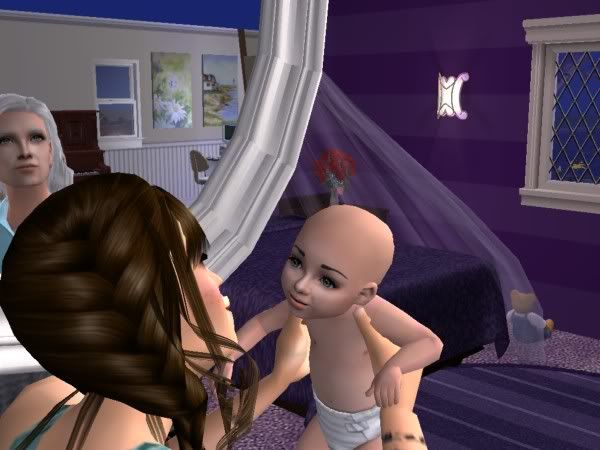 Actually, it's called Brad, and it's a he. Black hair from his Dad, Mia's eyes.
And just after the baby's born, the Reaper comes for Sarah. ;_;
Goodbye, sweet founder. You were awesome and made lots and lots of pretty babies.
Sarah:
: :O This drink is GOOD!
And she becomes the second stone in our graveyard.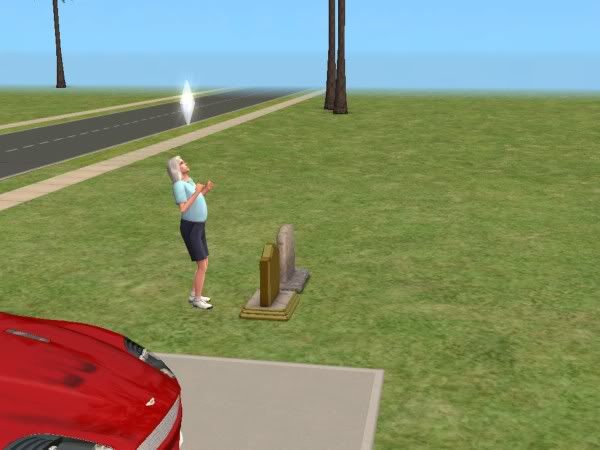 *sniffles*
Their mourning always kills me. Seriously.
Wolfy tries to comfort him…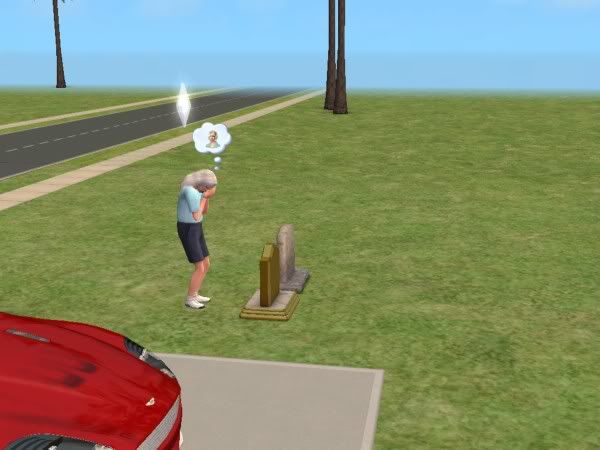 But it doesn't help.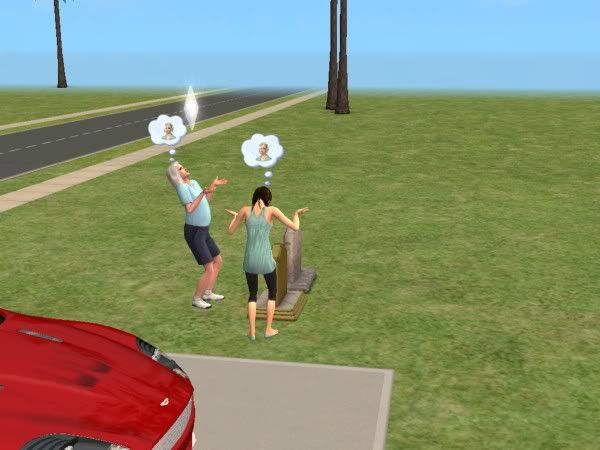 And then MIA joins in.
Alexander too.
Even Ashley is…wanting to makeout with her mother-in-law? WHAT?
The next day, it rains.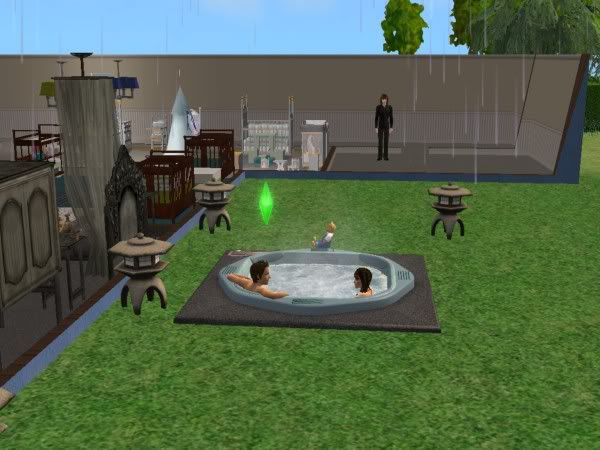 OBVIOUSLY, this calls for a trip to the hot tub.
Good to see you two getting alon- waaaaaaaaait a minute.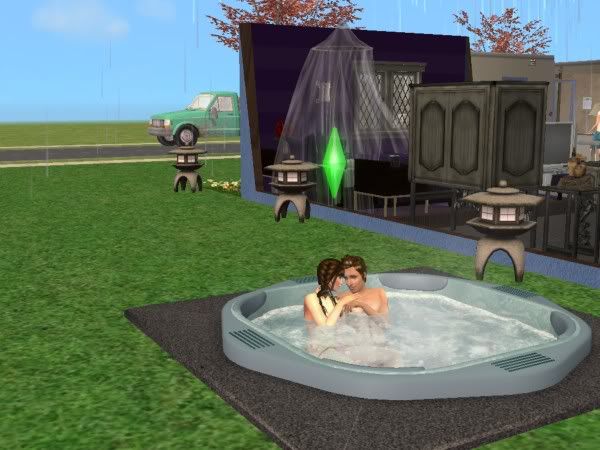 That is not how you should be looking at your in-laws!
No! Bad girl! OFF. Off your sister's fiancé!
Ohhhhh shit.
The Sim Goddess is Not Pleased, you two.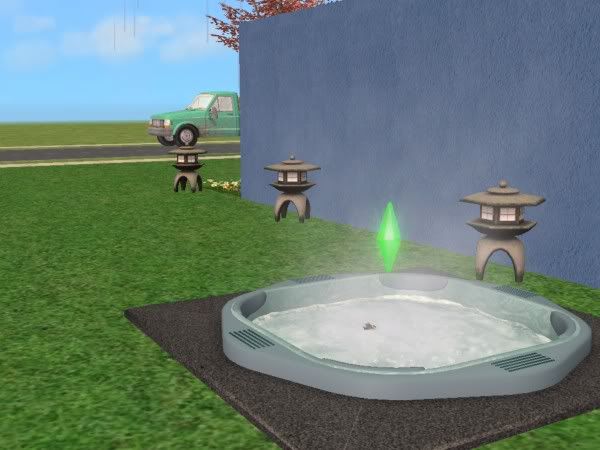 Seriously.
But okay, that's still funny.
As is…WTF?
Did you guys even, do anything? Other than summersaults? Seriously?
Talk about a quickie.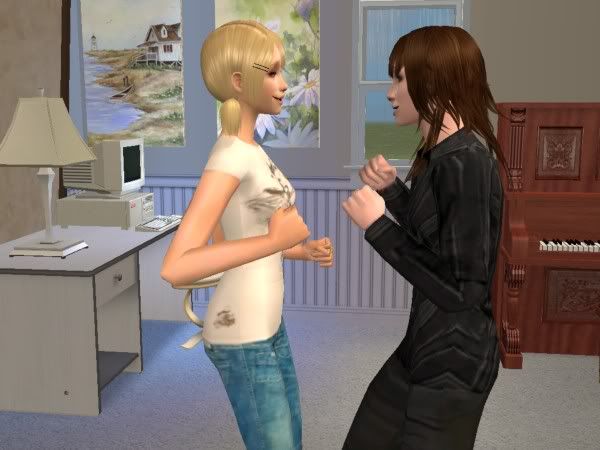 Meanwhile, here's the GOOD married couple.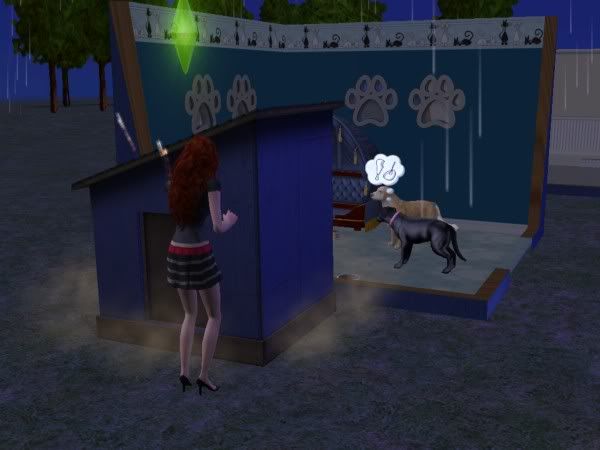 And Elena is all excited about…the cats woohooing? Dear, is there something you're not telling me?
Alyana and her nephew seem to be getting along well. So far.
And they REALLY wanted a puppy…so they got one.
Alyana is very mature for her age. She's already thinking about grandchildren.
And time.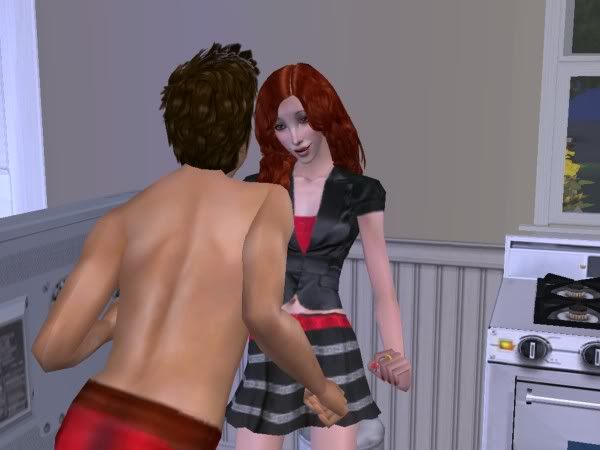 Meanwhile, the adults party in the kitchen.
Elena is happily oblivious.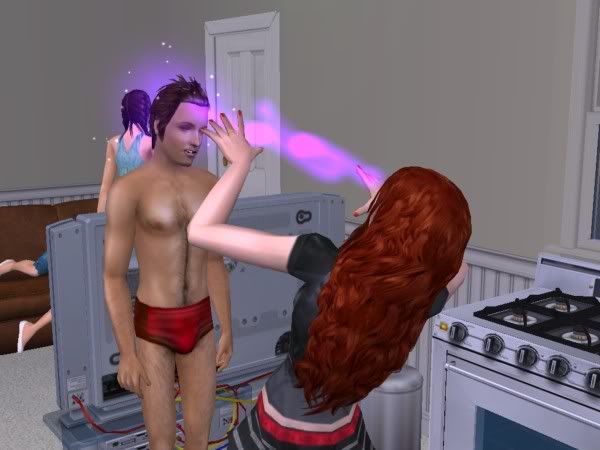 And apparently hungry.
NOM.
Rrrrow.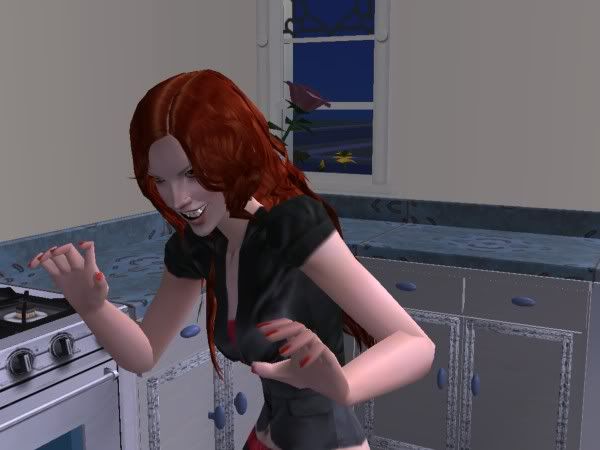 Nyeheheheheh.
Okay, yes, I freaking LOVE her vamp faces.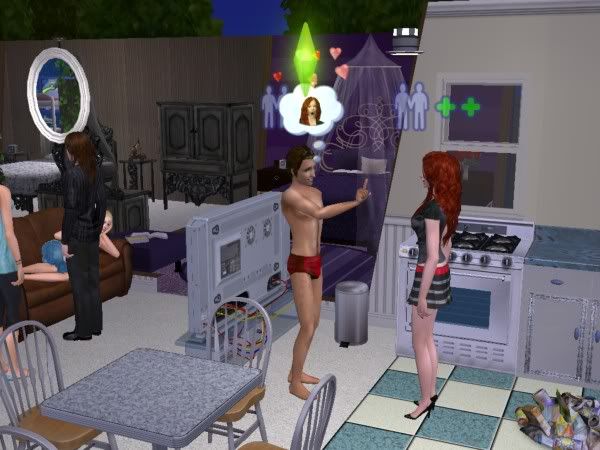 And apparently, so does Hemat.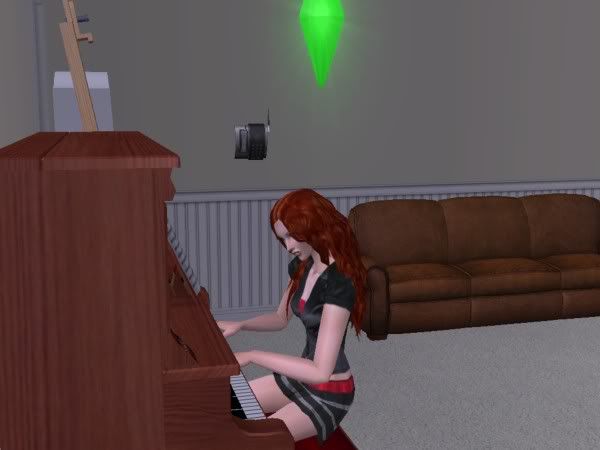 OMG.
Elena:
SRS BSNS DAMMIT.
Elena:
AHAHAHA. I play the piano, I am awesome, it is good.
Elena:
So good I don't realize it's daytime.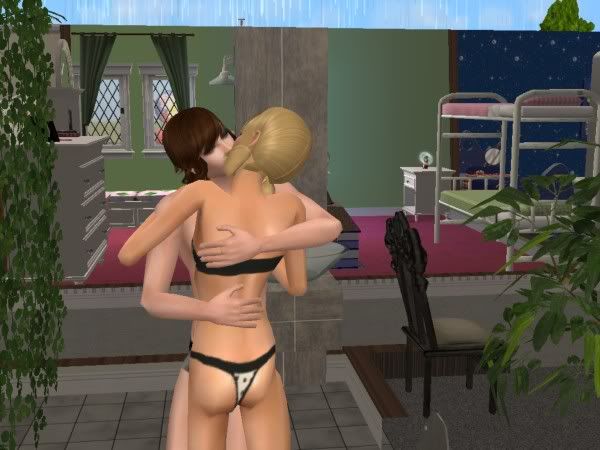 What is with the underwear in this family?!
Yes, you spot some gropage.
This is just a nom nom nom Alexander pic.
And apparently, Hemat is the new painter of the family.
Alexander is a good dad. Who wanders around in his underwear.
And Ashley is a good mom. Who wanders around in her underwear.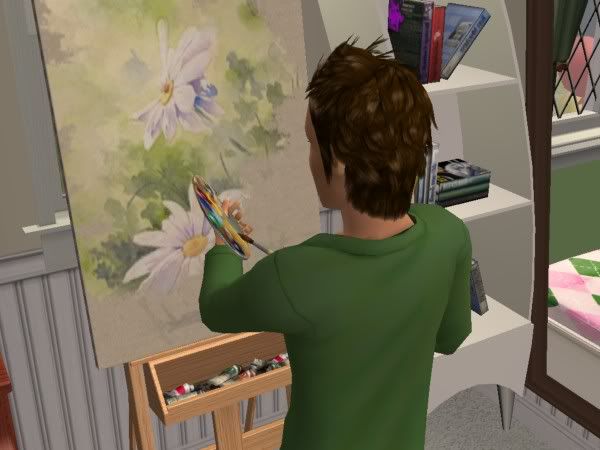 Not bad, Hemat, not bad.
YES, SHE'S STILL PLAYING.
All day.
Everyday.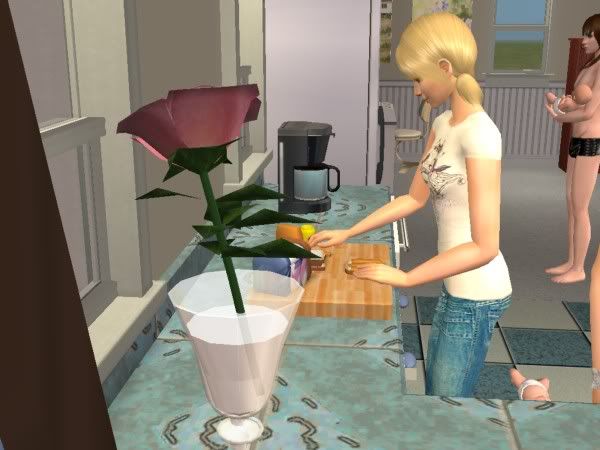 Ashley is just so...domestic.
And the babies are adorable.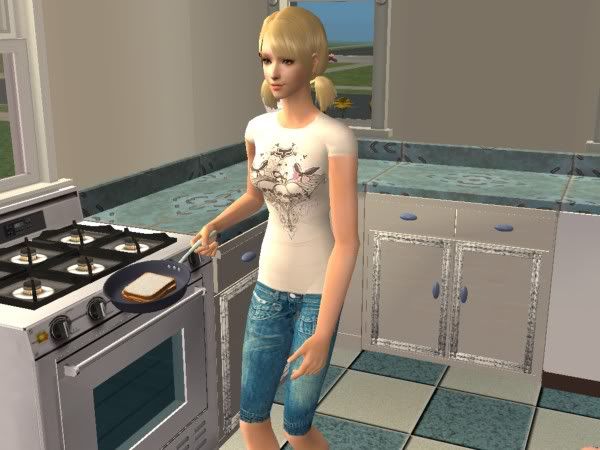 What did you THINK she was making?
A normal day in the Wheller house. Babies on the floor, maid cleaning up, Alexander in his underwear, and Ashley making grilled cheese.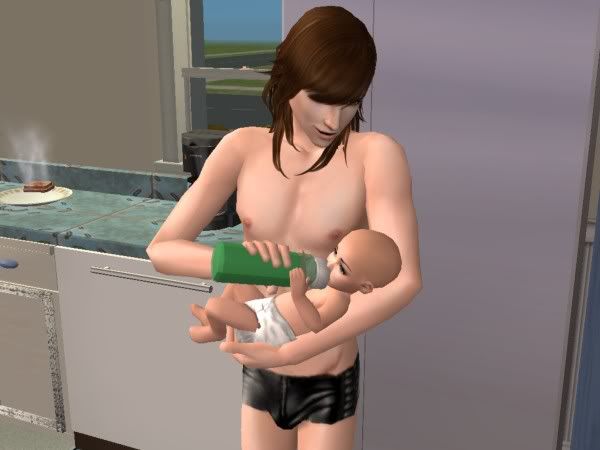 I think someone got the father trait from his dad.
But for Ashley, grilled cheese trumps babies.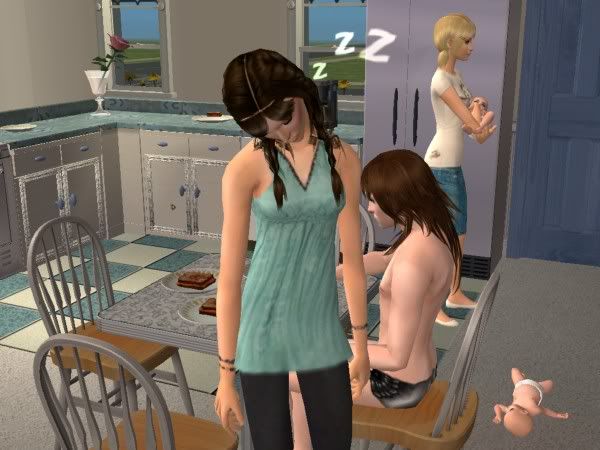 You were wondering where she went, weren't you?!
I guess they did more than gymnastics after all. :/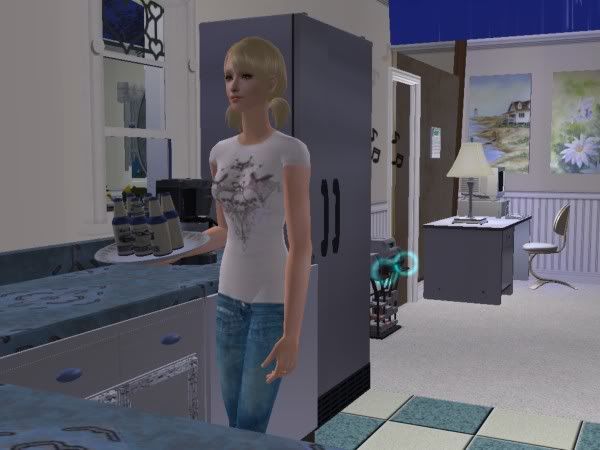 Ashley gets out the beer.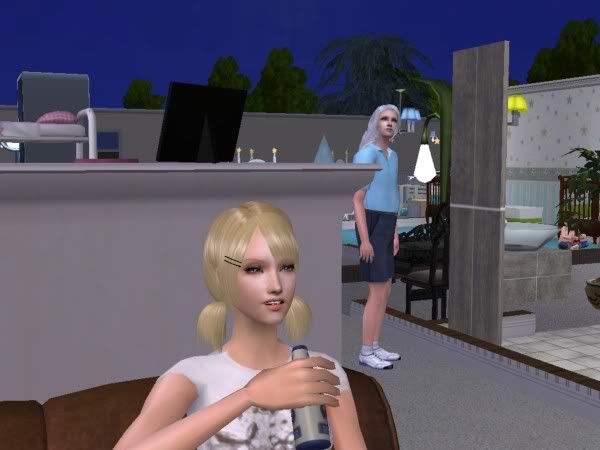 AND DRINKS IT.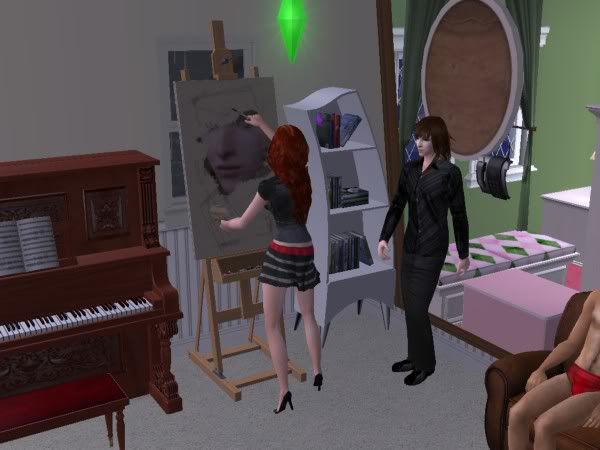 Elena paints her brother.
Hemat approves.
As does Alexander.
I just realized how hairy that skintone is. Hemat is a manly-man! Rawr!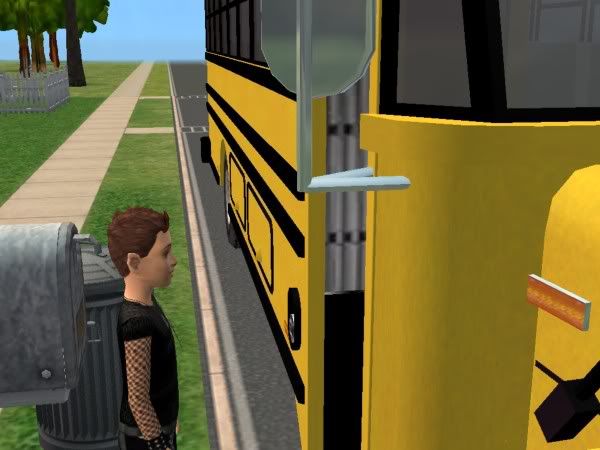 And it's time for Mongo to go off to school. This should be interesting.
Alexander's carpool is DIRTY.
And Mia happens to work the same job.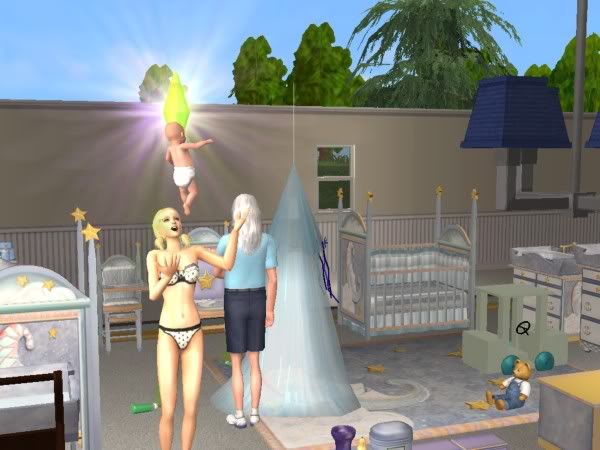 Meanwhile, it's time for Phillip to grow up.
Squee!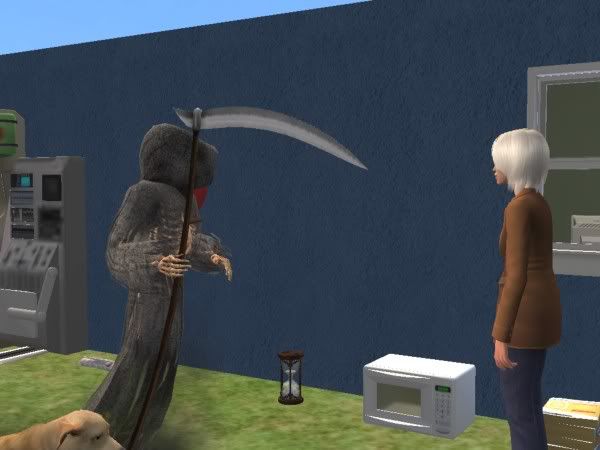 And Grandma comes over, which leads me to realize she should be LONG dead by now, so I kill her. Well. I mean. She dies of old age. That's not murder. Right? Right. >___>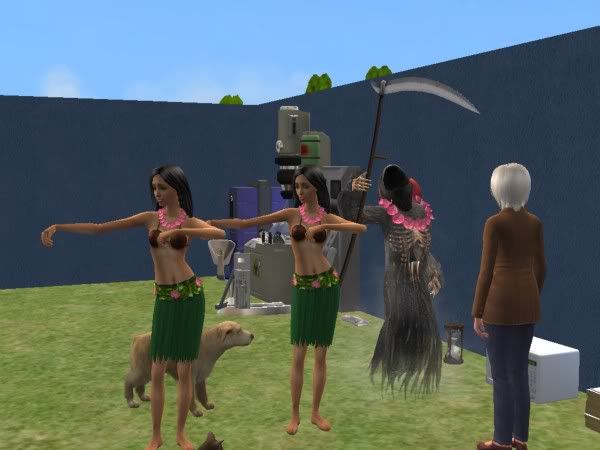 Anyway, apparently Heaven = Hawaii
Sweet little Alyana is the only one that grieves over Grandma, and I'm pretty sure she never even met her.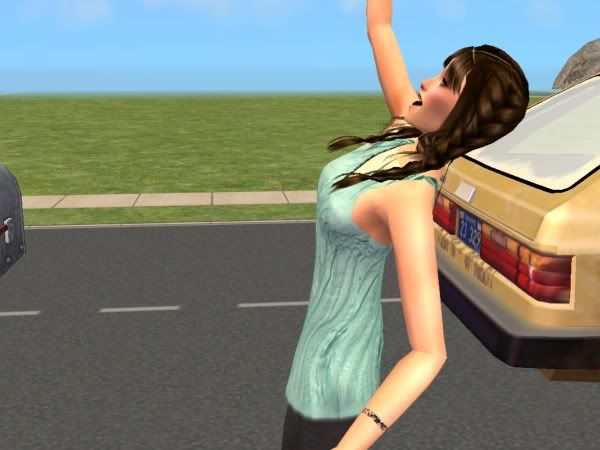 Mia
: Like, omg!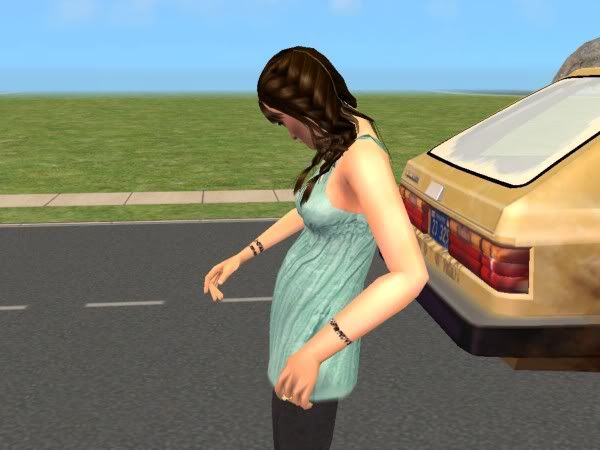 See kids, this is what happens when you sleep with your step-sister's fiancé in the hot tub.
I think it's very clear by the look on her face that this was NOT A PLANNED PREGNANCY.
She wants her mommy.
Alexander, meanwhile, is bathing little Phillip and being a good daddy.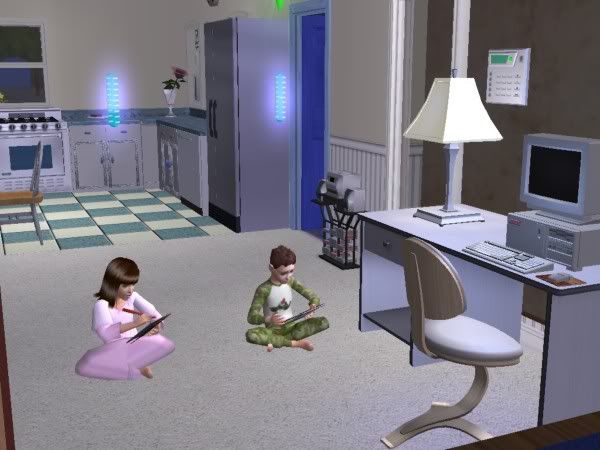 And the kids are doing their homework together!
She has…potential.
Daniel is a creeeeeepy old man, and watches her eat.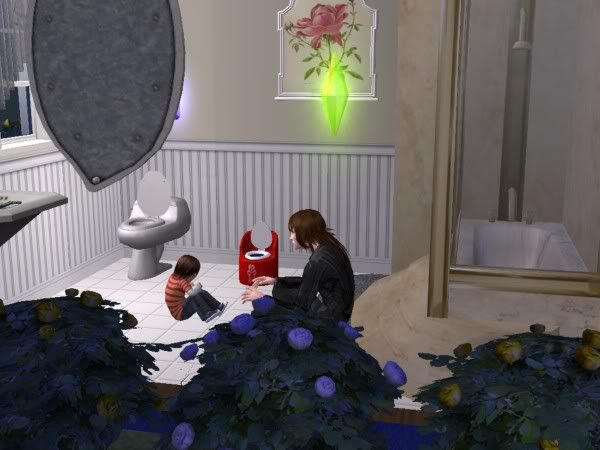 Phillip is being difficult, because he's a toddler and that's what they do.
But eventually he gets it!
Alyana
: *makes friends with the piano*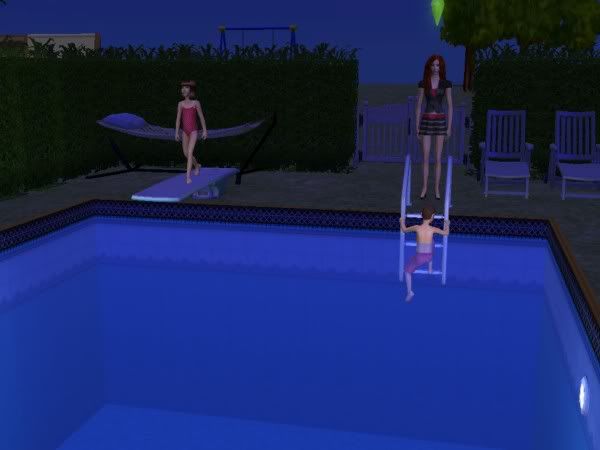 So the kids and Elena go for a swim in the new (actually very old, but somehow they JUST discovered it) pool.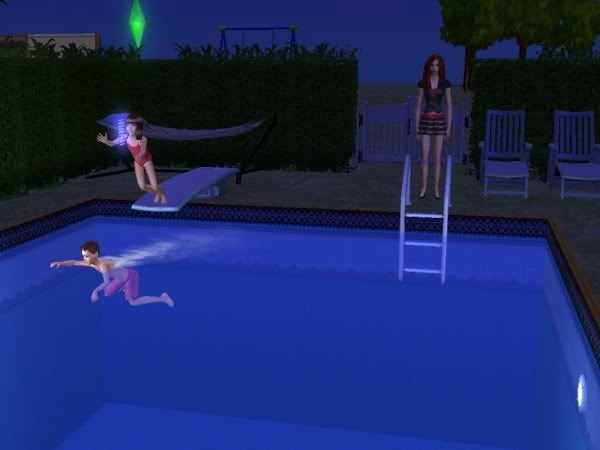 Alyana
: Rawr, I will get you!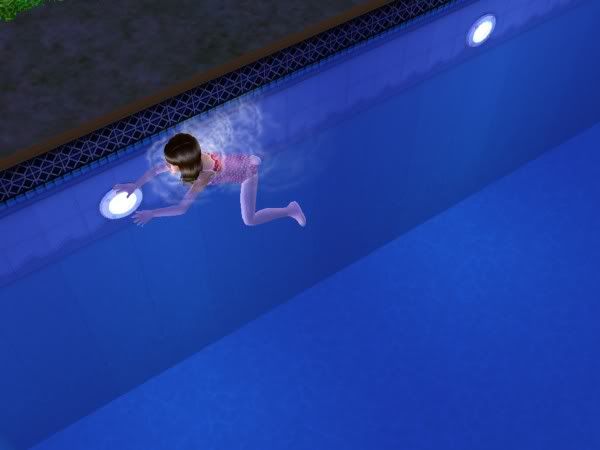 This shot has three reasons. One, for me to squee over the high quality, two, for me to squee over how cute those bathing suits are, and three, for me to squee over my new camera angles. Also, because their swimming is adorable.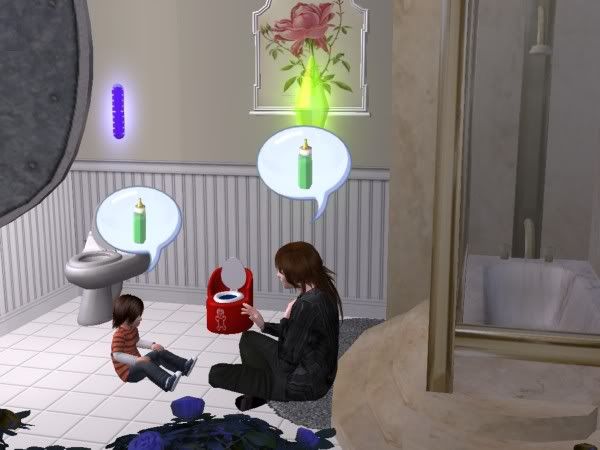 Almost done!
BIG DOG HOUSE, itty-bitty doggy
All the pets are doing well.
Including Gizmo, who looks huge in this pic.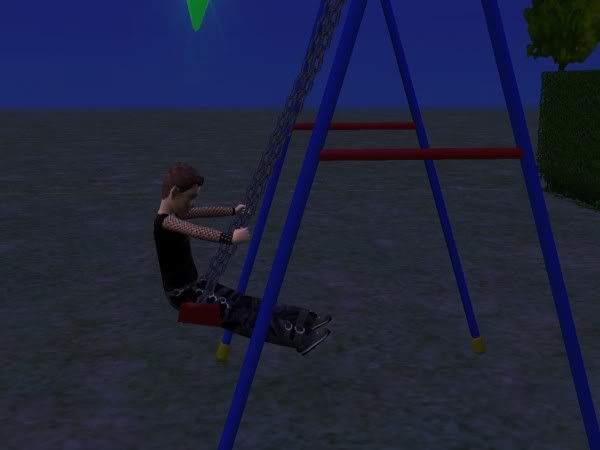 Mongo should be doing his chores.
Alyana gets pissed and does them for him.
And then suddenly HE'S pissed, which means someone's in for a beating.
*camera pans to 'someone'*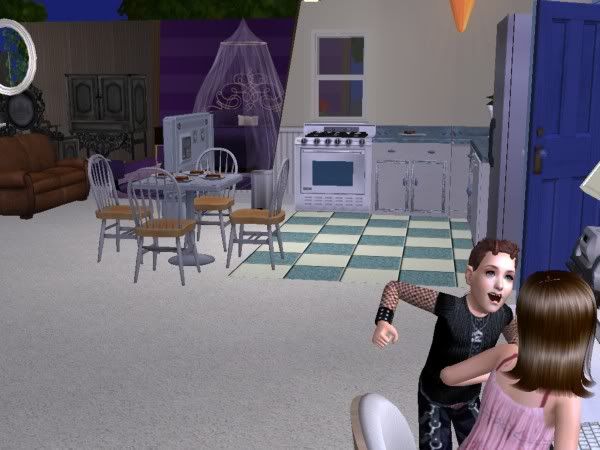 Mongo:
RAWR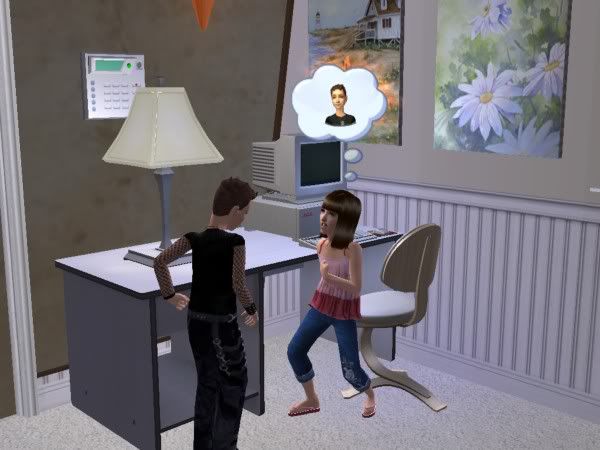 But Alyana's not gonna take that.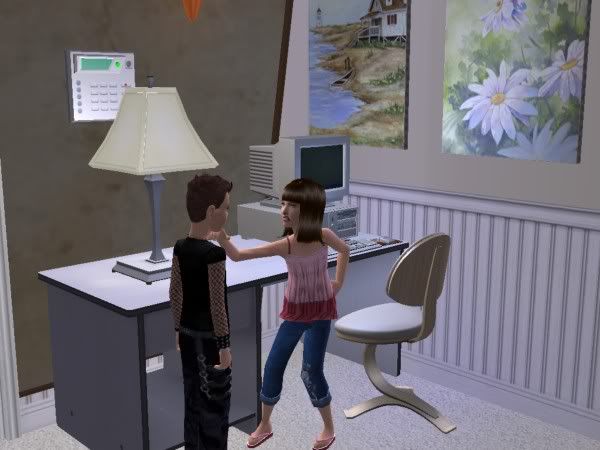 Alyana
: *BITCH SLAP*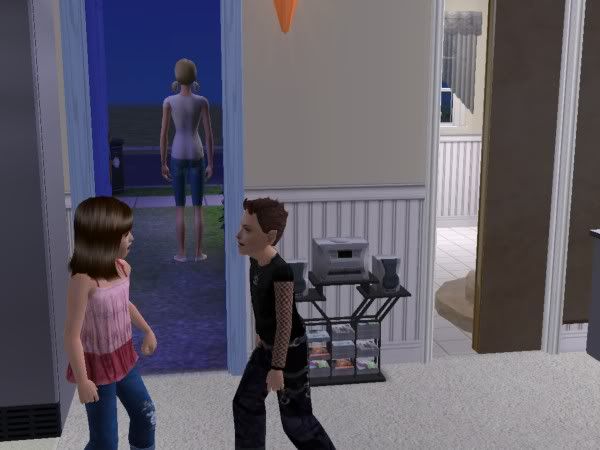 Mongo:
O RLY?
Alyana:
YAH RLY
Ohohohohoho.
Do we see where this is going? I think we do.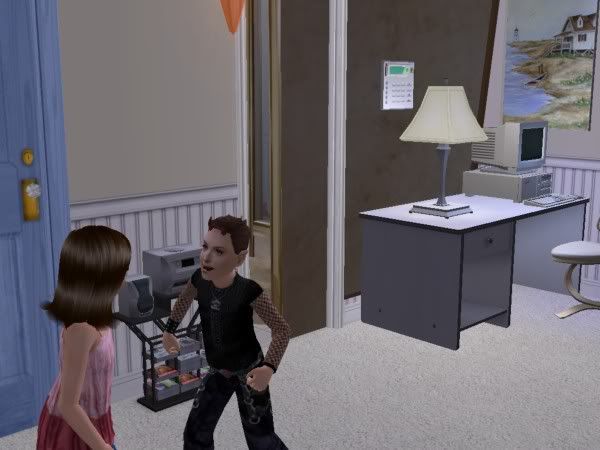 Mongo:
GRRRR.
Alyana:
Dude. WTF?
Alyana:
OUT OF MY PERSONAL BUBBLE YOU STINKY IDIOT.
Mongo:
I do not sti- okay yes I do.
Not cool, Mongo. Not cool.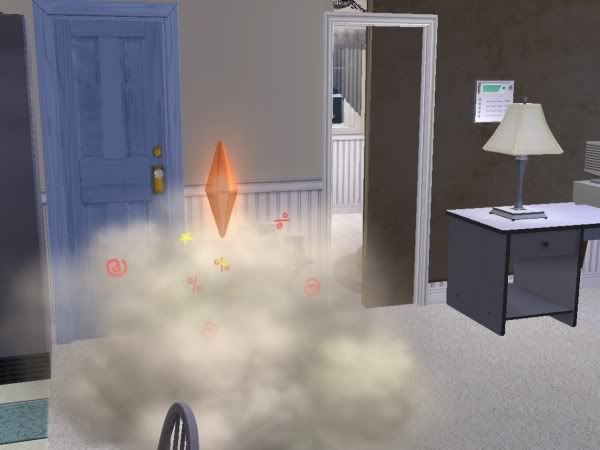 Apparently even the stink cannot stop a fight from breaking out.
Mongo wins.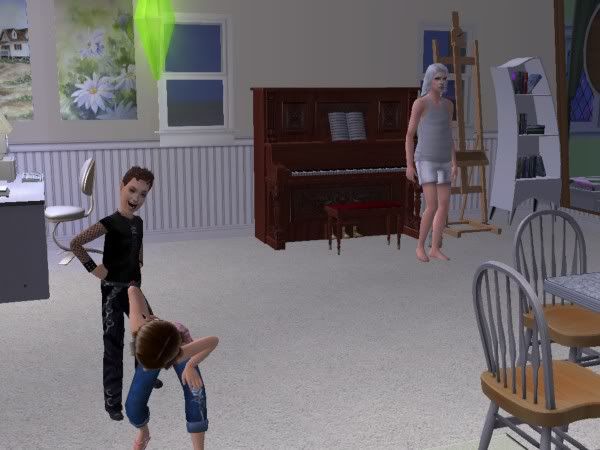 I believe that is what we call "PWN'D"
But ohoho NO! Alyana's gonna give back!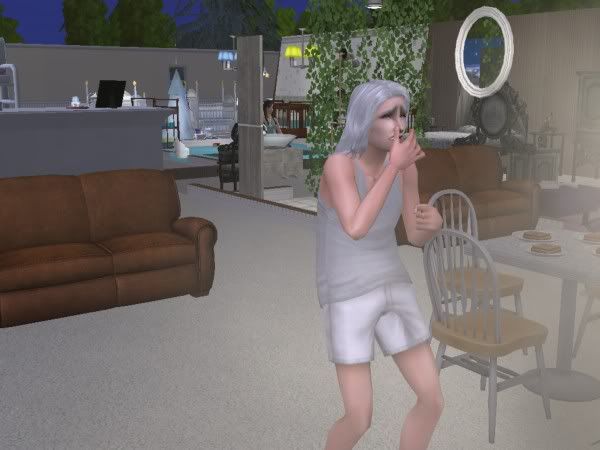 Daniel is appropriately distressed.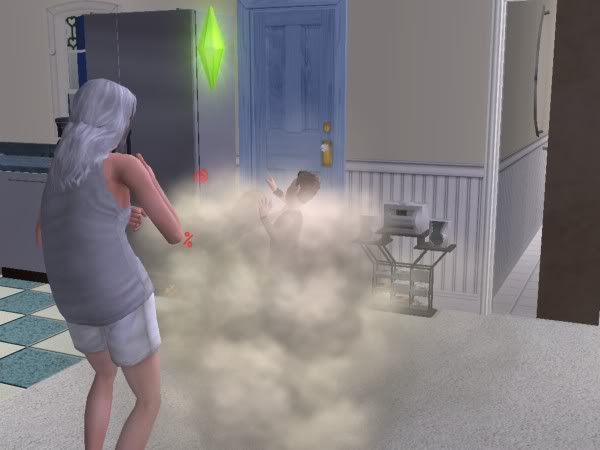 I think they're just summersaulting behind the dustcloud. :/
…Not in THAT way, dammit.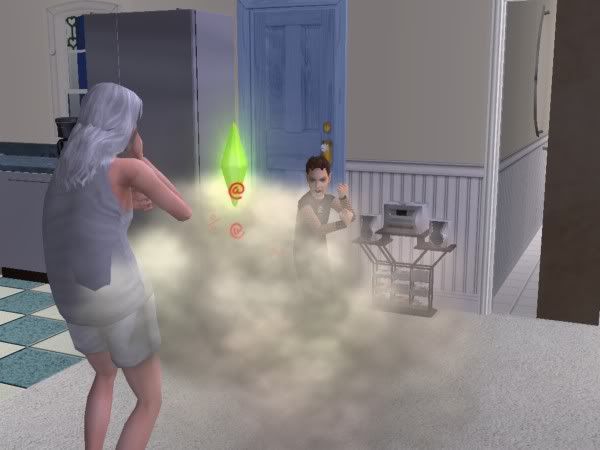 Mongo:
Nyahahahaha!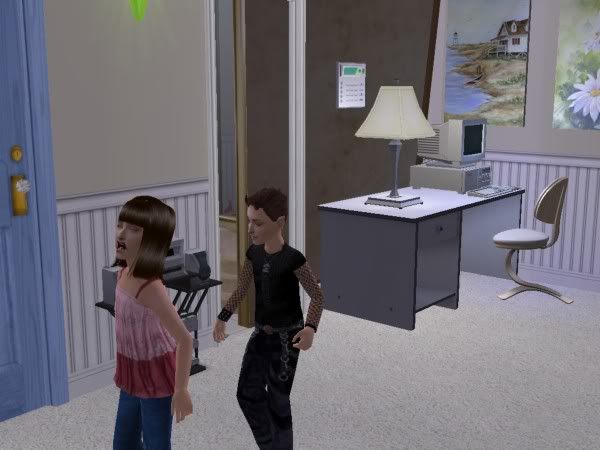 PWN'D again.
She has a sad. ):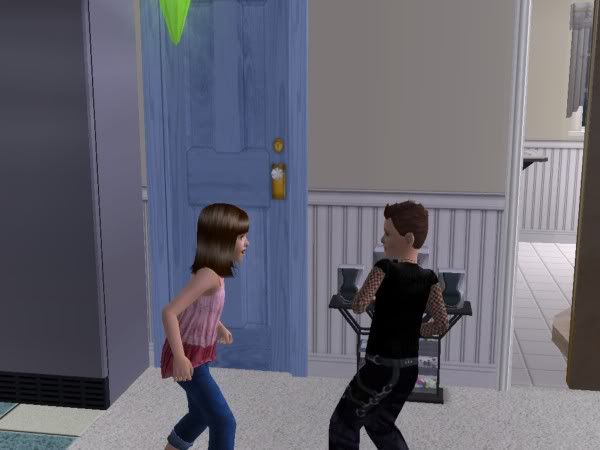 And she bitches him out one more time…
Before taking a short piano break.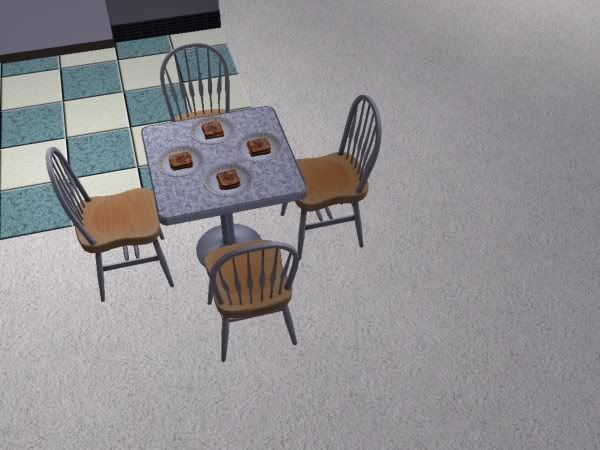 Guess what they're having for dinner tonight?! (Btw, that table is the ONLY THING that's survived since the beginning. Even the chairs changed, but for some reason, that table stays.)
Brad gets to grow up, too.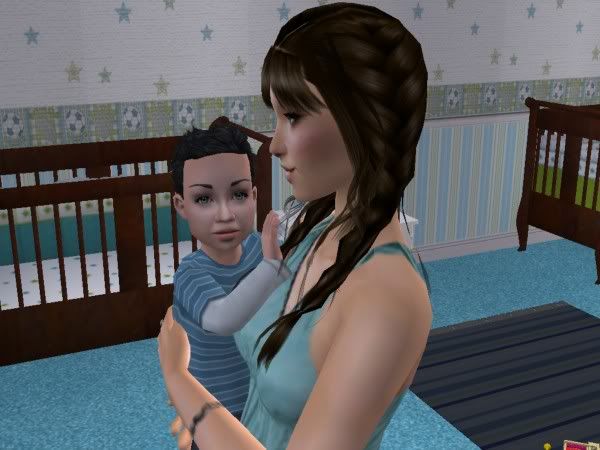 So far, I'm pretty impressed with this gen's babies.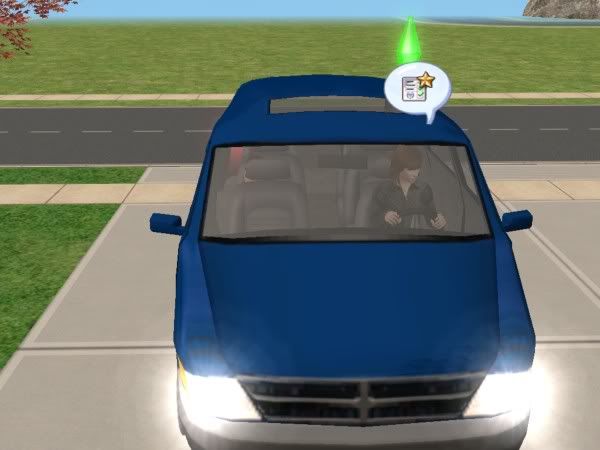 Alexander tells the kids to get good grades!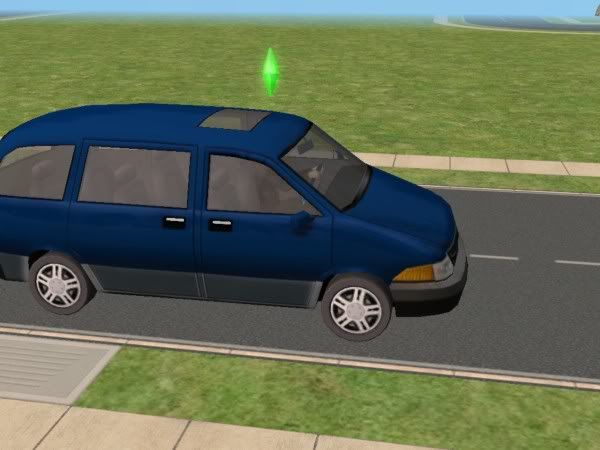 Before driving them off to school.
You look
so
enthusiastic, dear.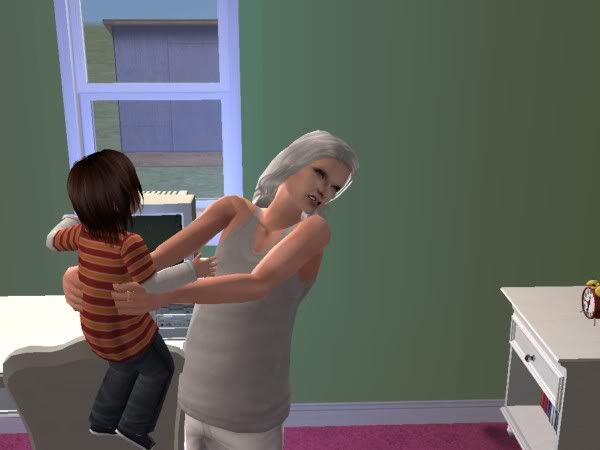 DON'T PUKE ON GRANDPA.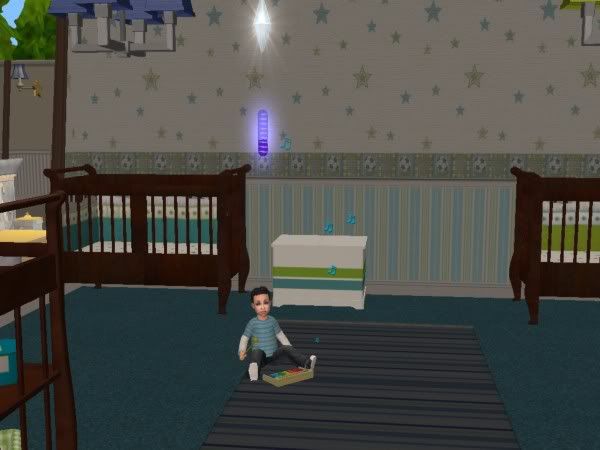 Aaaaaaaaaand the musical genius continues.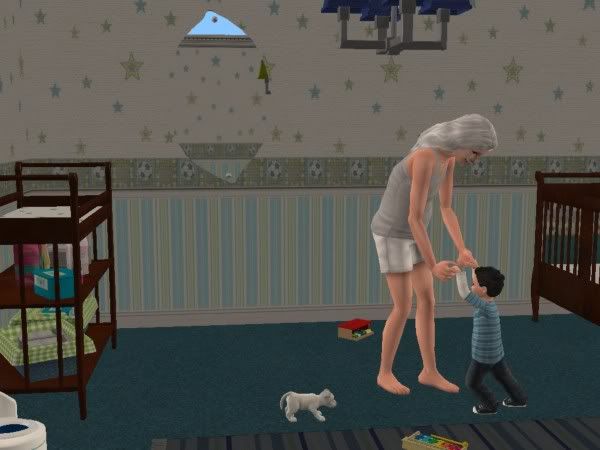 The puppy is FASCINATED by the walking lessons.
And Ashley loves her son, even if Grandpa doesn't anymore.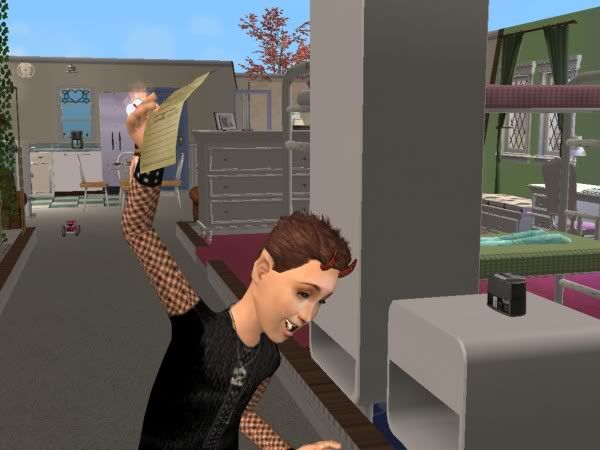 Mongo
: I got an A I got an A I got an A omg!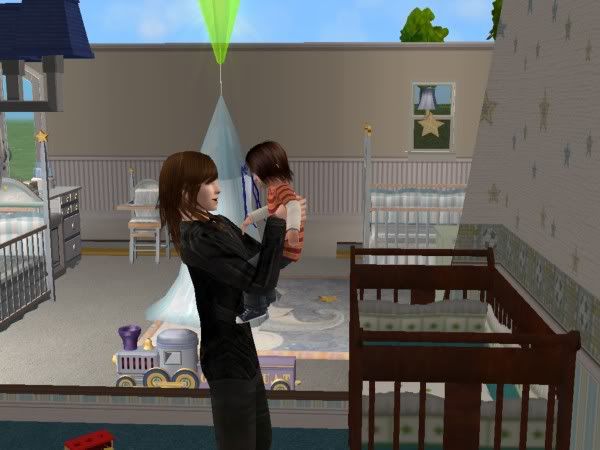 Alexander
: You're going to get As too, aren't you, aren't you?!
Phillip
: *pukes on Daddy's face*
Ashley apparently prefers bunk beds to the one she shares with Alexander.
And Elena prefers coffins.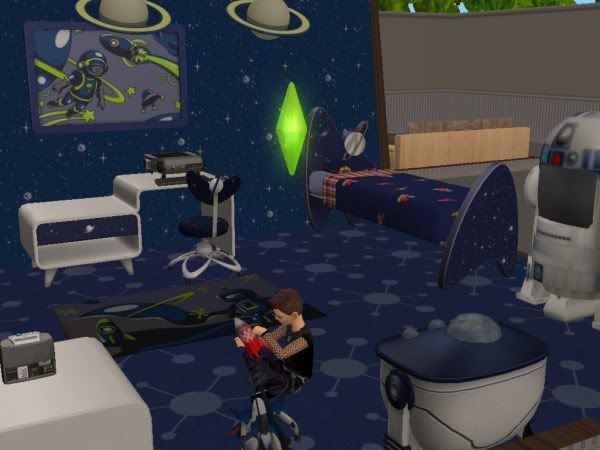 Mongo:
What the crap do I do with this thing?
Oh look she's getting bigger.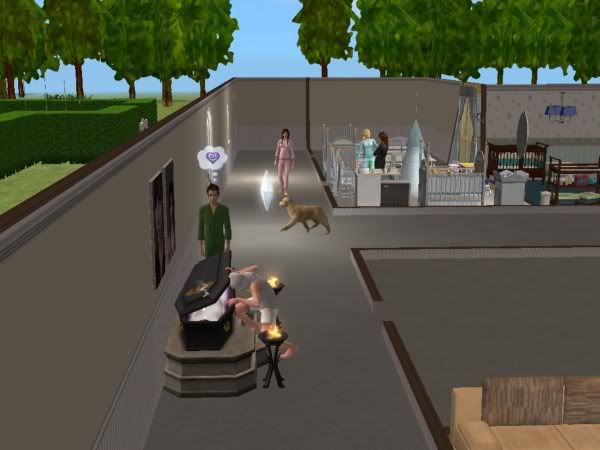 Daniel is apparently and idiot, because he decides looking in Elena's coffin is a smart thing to do.
Can you really blame her for being pissed?
This is where Hemat looks at Mia, realizes she's pregnant, and goes "I AIN'T THAT BABY'S DADDY"
And then the kids decide to fight again.
Everyone is upset, except Mia.
Who cheers them on.
Enthusiastically.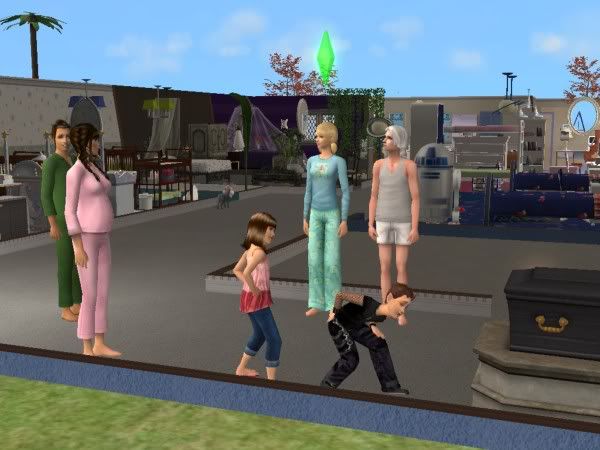 BEATEN BY A GIRL.
Hemat
: So, can't we just…recycle, the baby?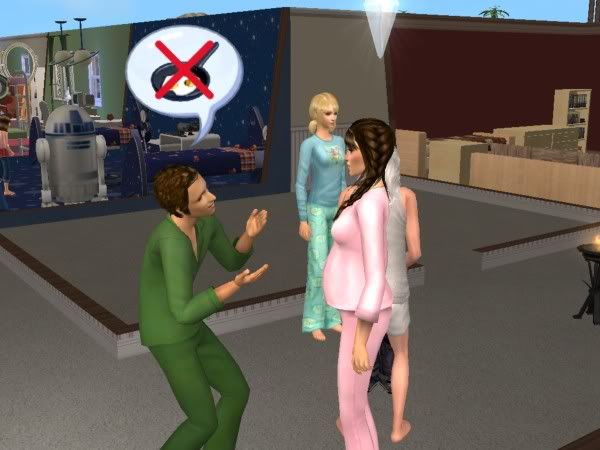 Hemat
: Or, you know… *makes cracking egg gestures*
Mia does not think this is funny, Hemat.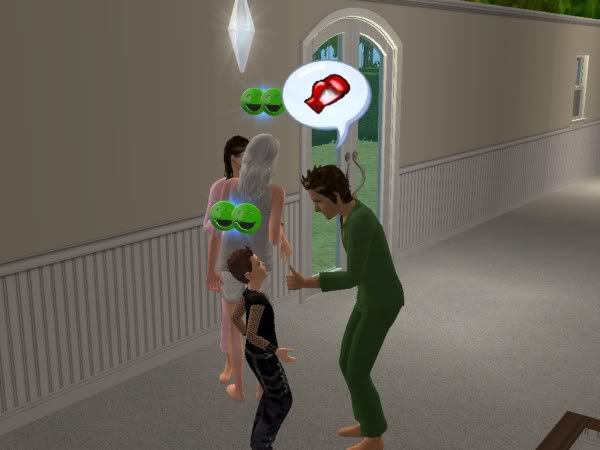 Such a good father, congratulating his son for getting beaten by a girl and knocking up his aunt.
So, Mia's conspiratorially whispering about marriage.
And Hemat.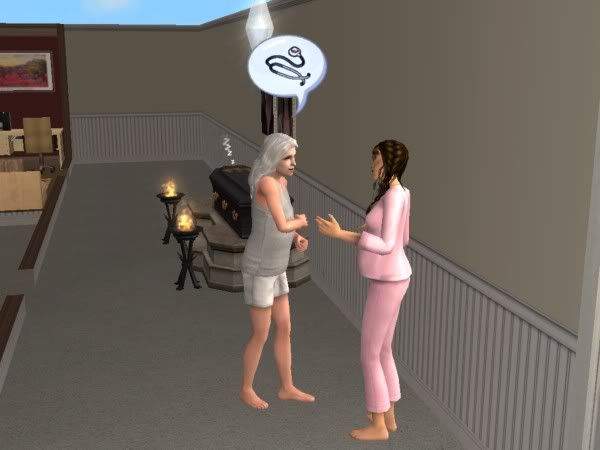 And doctor's appointments! I think the secret's out.
Meanwhile, Ashley is babysitting. Awwwwwwww.
Okay yes I love the toddler cuteness.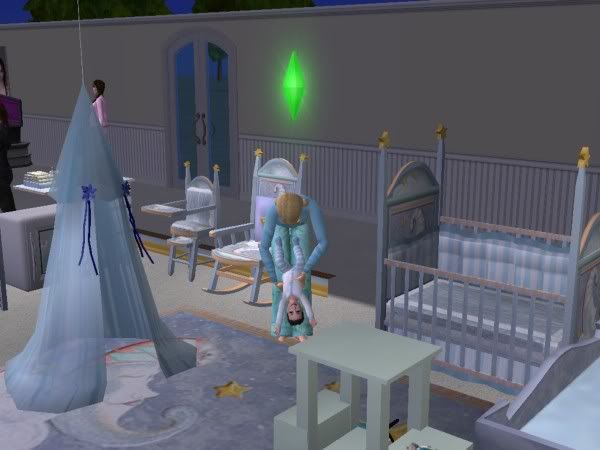 A LOT
Mongo and Alyana…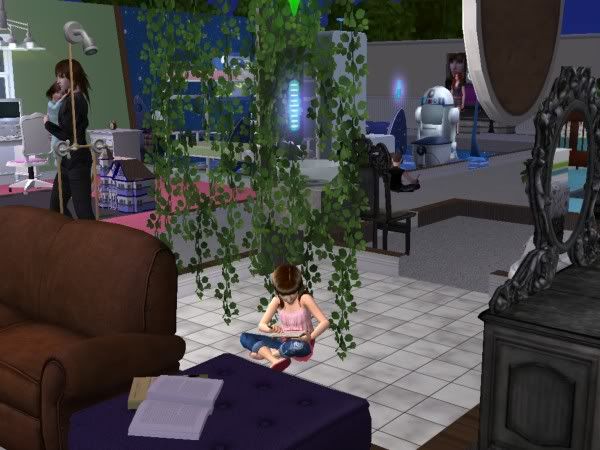 Are now doing their homework FAR AWAY FROM EACH OTHER.
Hemat
: So I was thinking, we haven't done a dungeon scene in a while…
Elena
: I'm game for that!
Oh, Elena. So happily oblivious.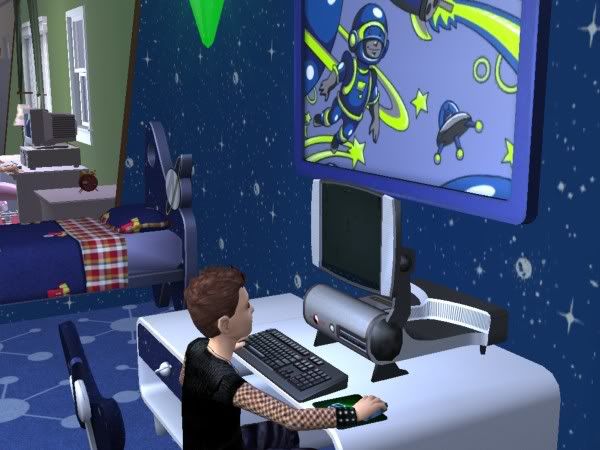 Mongo
: Dear LJ, my life sucks. Aunt won't melt under water. Must try different method.
Mongo
: Dude, what's the best way to kill your aunt?
Pinky
: LOL, IDK, liek, set her on fire? …J/K!
Mongo
: Actually…that's not a bad idea.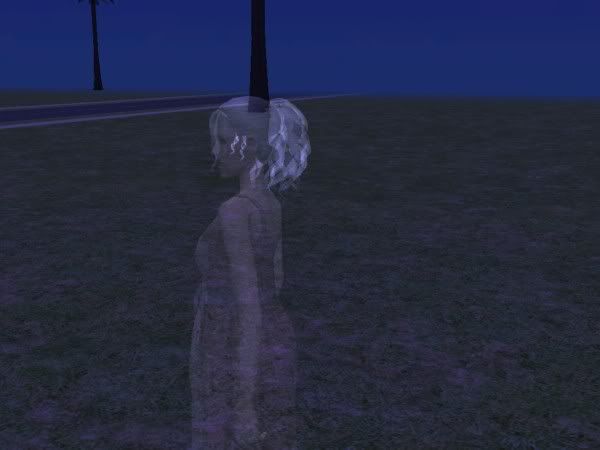 Sarah
: *SEES WHAT YOU DID THERE*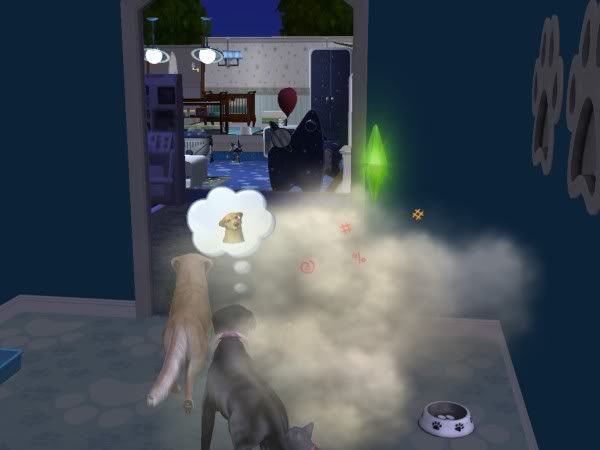 I think you know who the ones fighting are.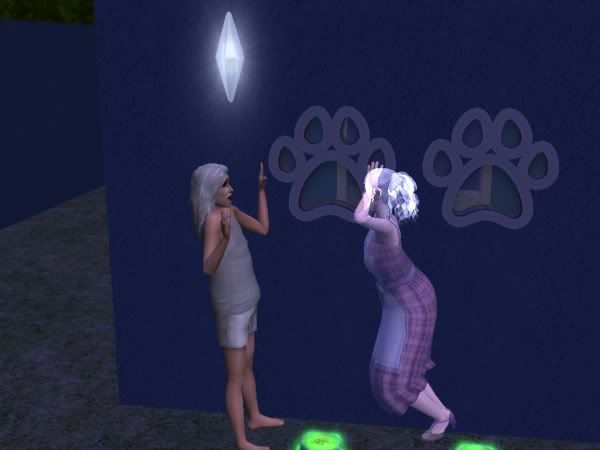 Sarah
: OOGABOOGA!
Daniel
: AHHHH IDIDNTDOITWITHTHEMAIDISWEAR!
Mia's actually being a pretty good mom, despite her rendezvous with her step-sister's husband.
Ashley…apparently likes making funny faces.
And Mongo decides to take out his anger…at the piano.
This is just to see how observant you are.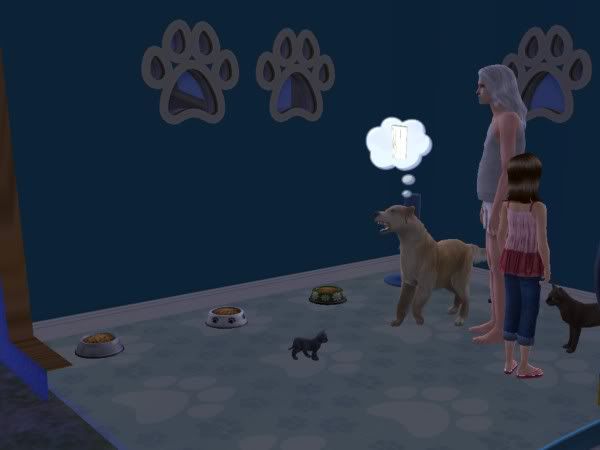 Widget!
Gidget!
And Fidget!
So that look of shock? Yeah, she's pregnant again. You baby making thing you.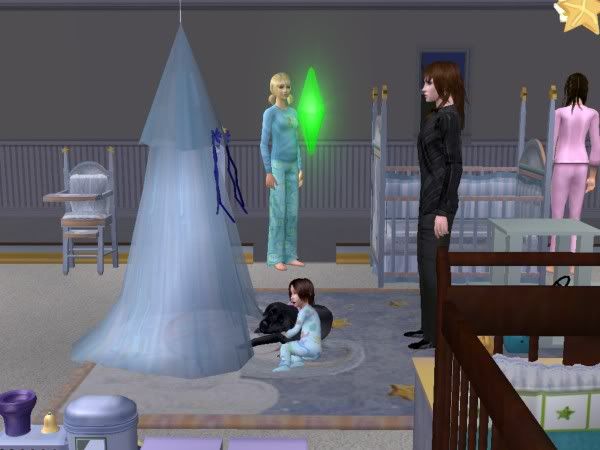 Phillip
loves
the doggy.
More cuddle spam!
And teaching spam.
And just toddler spam in general.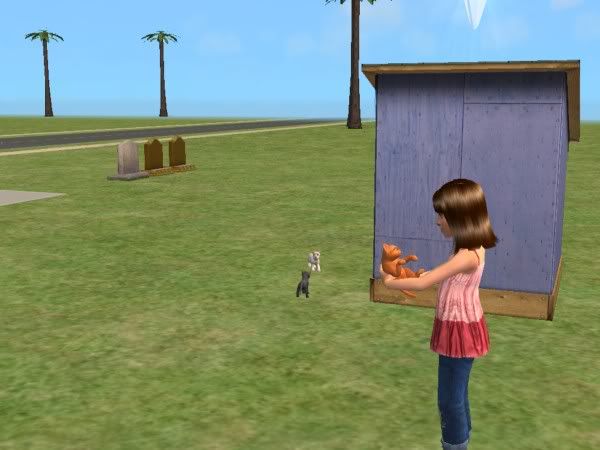 I have no idea why one of them is orange (when both the parents were black…) but OMG are they cute!
Domo arigato mister roboto…
Actually, they're just growing up.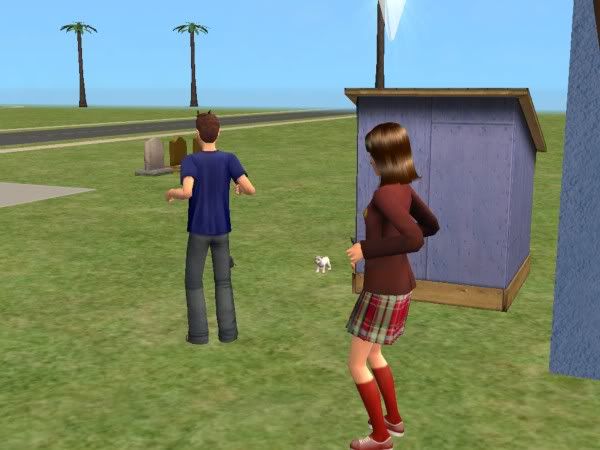 Wee, teenagers!
And they immediately get to bitching each other out.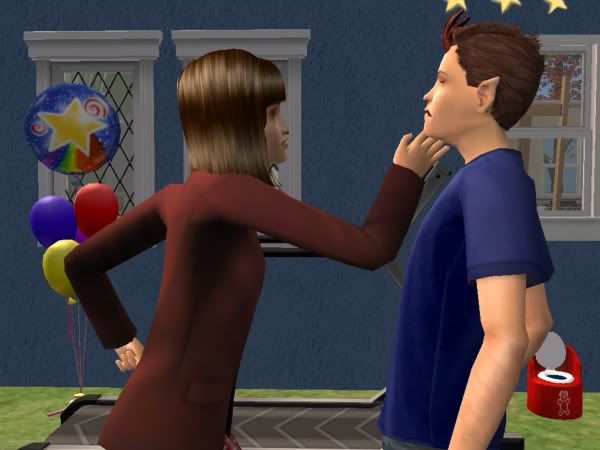 Sims are violent, man.
OHOHOHO.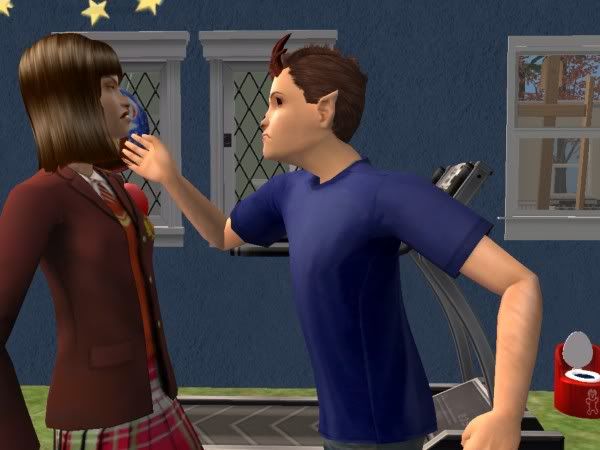 You slap like a girl, Mongo.
That…that face he got from his mother.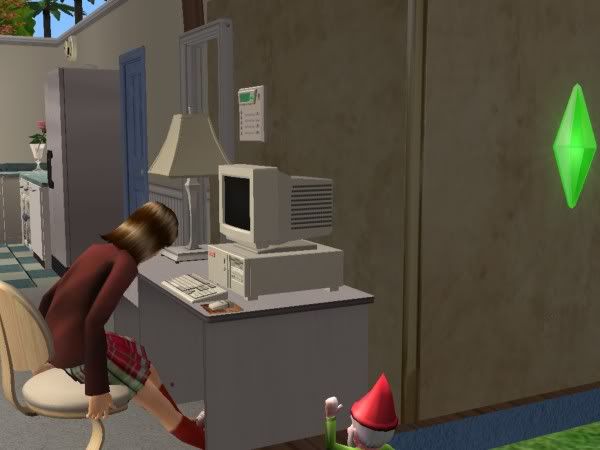 Alyana IMMEDIATELY works on getting her own place.
Because Mongo sucks.
And…wait. Elena. Please. I want you to stay…undead. No burning yourself, kay?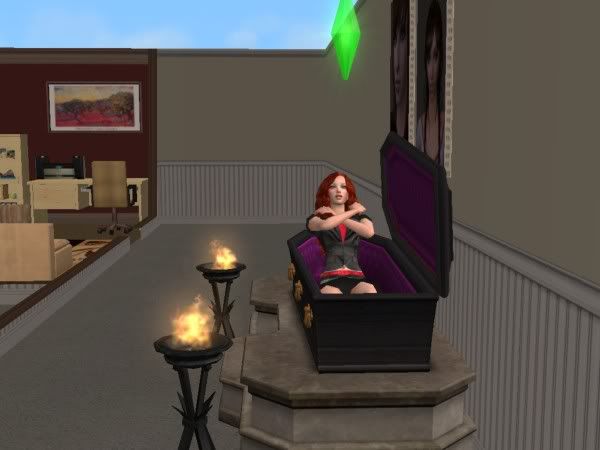 Thank you.
The two pregnant chicks gossip, because they are awesome that way.
Ashley:
Where I come from, it rains all the time.
Mia:
Duuuuuuuuuuuuuuuuuuude. Trippy.
Oooh! Ooh! Baby tiem!
Mia:
I HATE YOU!
Who?
Mia:
EVERYONE!
Gardener
: *starts swearing in Spanish*
Another boy!
Typical Wheller coloring. Ashley is so proud.
I think we ALL know what THAT'S for.
And yet, it doesn't phase them.
LOOK AT THE WAY HE'S HOLDING THAT PUPPY D:
They were not kissing! Just playing…kicky bag! Right!
Alexander got a promotion. Spiffy.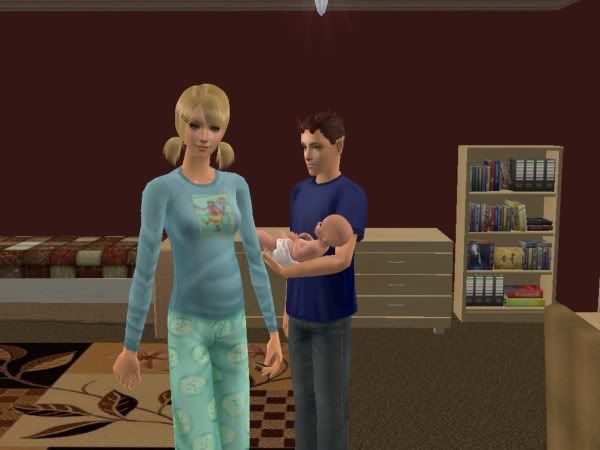 Ashley:
Here, Demon Kid, take the baby.
I'm not sure that's such a good idea! D:
Mongo:
You and me. We're going to be
great
friends. (:<
All this stress is driving Hemat to drink.
…Yup. He's drunk.
And poor Sally is getting old, but just as fierce as ever.
That piano NEVER gets any time alone, I swear.
But Mongo does. He sits all alone. On his swing.
…
The swing loves him.
Next Up!
Babies, babies, babies!
Will Hemat and Mia manage to keep their secret…a secret?!
Mongo! Elena! All your favourites!
Much shorter. So I can post it faster. It's a win/win situation.
We find out the name of the mysterious baby.
Also, a note: I have a big huge list of names to use, but, any requested names (either in the comments or the poll) get bolded, so I use them first! Request some names!