Last time,
They had twins, Elena grew up, Daniel got impregnated by aliens, and Sarah was a werewolf momentarily, before giving birth to another boy.
Warnings: TOO MANY CHILDREN OMG
I love you Mia, I really do.
And, I figured out how to get Daniel's maternity clothes to turn on. Yay!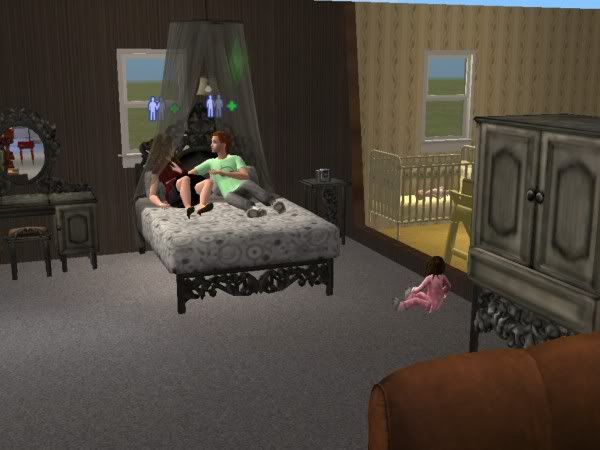 Because apparently having sex with your toddlers in the room is the Cool New Thing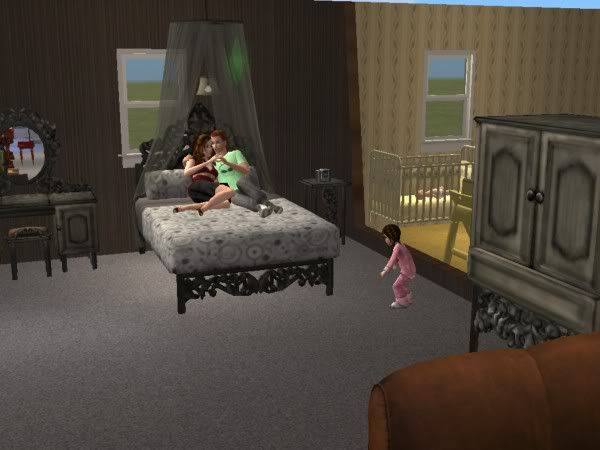 Mia:
I'm outta here!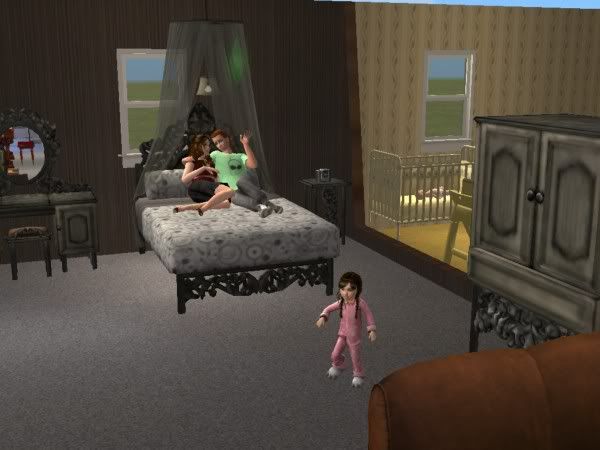 Daniel:
Don't let the door hit you on the way out!
Mia:
ARGH MY EYES
This family breeds musical genius.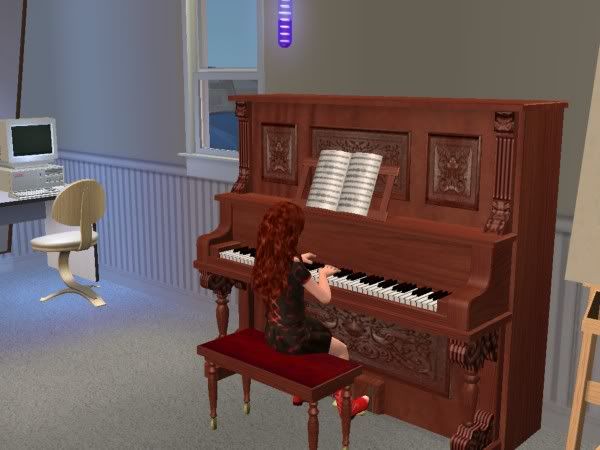 This is all Elena does, all day.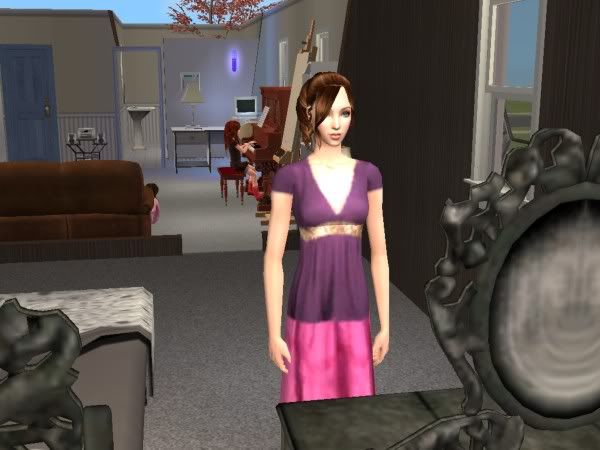 Sarah:
*got a new look*
Play Moar, Emo Kid.
Time for Mia to grow up!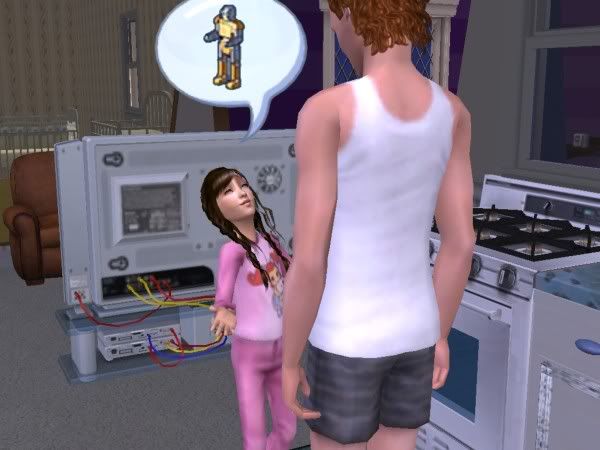 Mia:
I'm so awesome, I can build robots.
Elena continues to be her family's maid.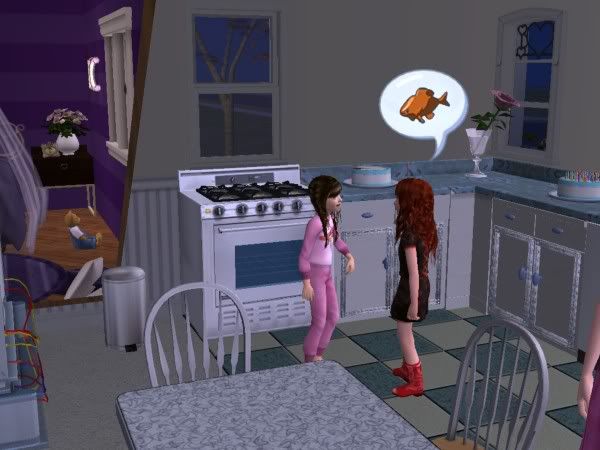 Demon Child Elena:
Listen up, offspring. Do what I say, or I'll turn you into a fish.
Mia:
Haha, you can't turn me into a fish.
Demon Child Elena:
Maybe a bird would be more fitting.
Mia:
…Now that, I do believe.
Xavier's turn!
And he, like his older sister, grabs the cake and RUNS.
But the twins do look like twins, which makes me happy.
Demon Child Elena:
Now, this is when I lock you up. >:D
Mia:
I thought
I
was the cop!
Elena:
Exactly. >:D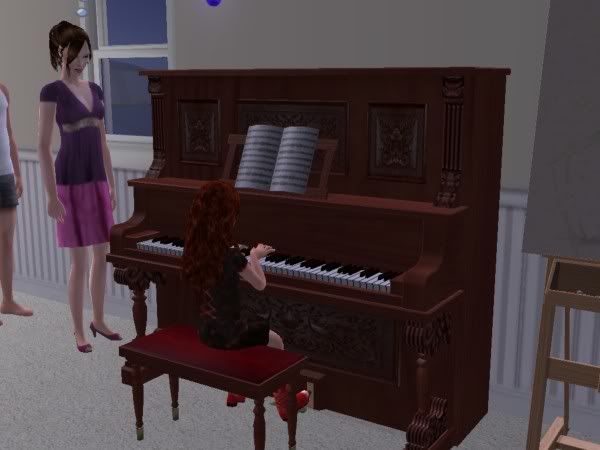 Sarah:
Stop playing, bitch.
Demon Child Elena:
IT'S AN ART FORM DAMMIT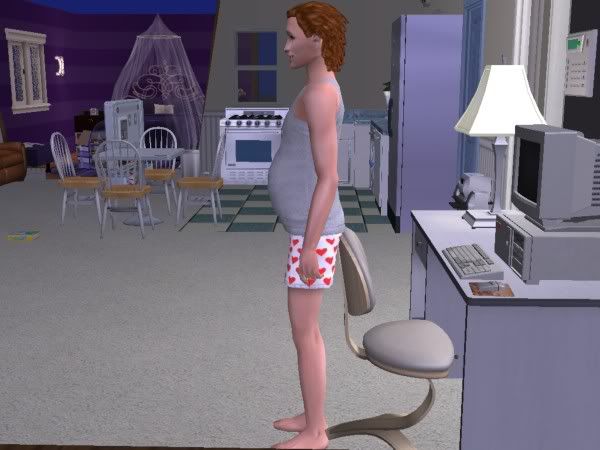 Daniel:
*is even more pregnant*
Oooh, new house additions, btw. This is the space room, for the Alien Baby and Alexander.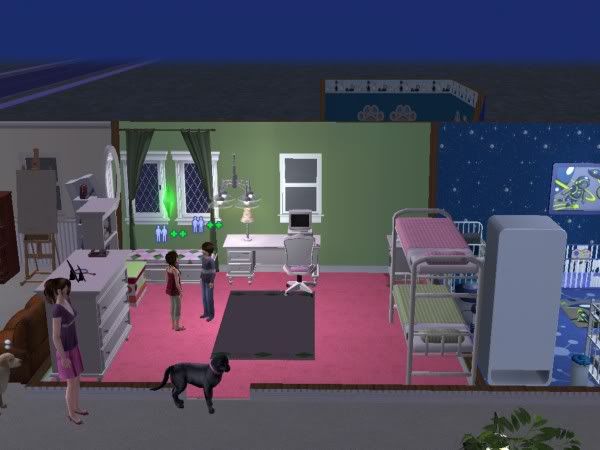 This is the Mia and
The Gay Child
Xavier's room.
And this is the *cough* Next set of twins' room.
Same design for the master, just moved and bigger, with another bathroom, but Elena's room stays the same.
Sarah:
*watches the twins play like a
bored
good mommy.
Kudos to whoever made this bookshelf. Oh, and look what Elena's doing.
Even when pregnant, Daniel is still Number One Dad.
Xavier
: *plays house with two MALE dolls*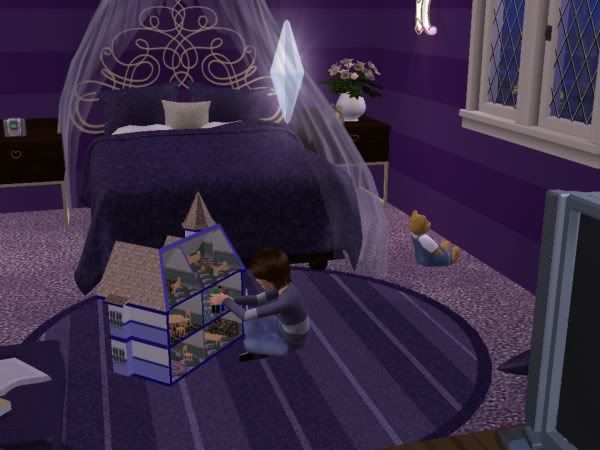 Xavier
: *makes them kiss*
I think this, combined with the fact he is perfectly happy to have a pink room, seals his fate.
Xavier
: I'm too sexy for this couch, too sexy for this couch, so sexy…
…
Yeaaaaaaaaaaaaaaaaah.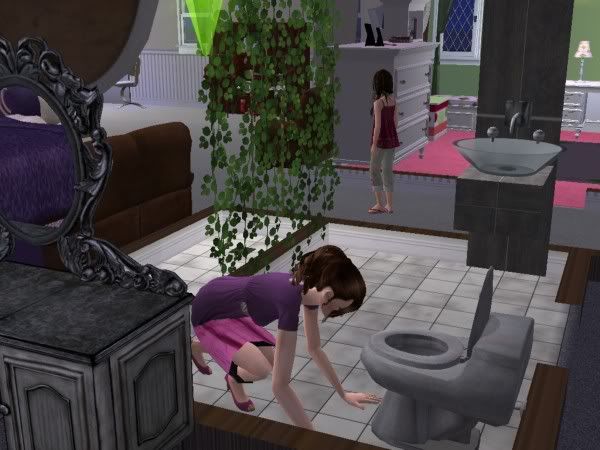 Sarah:
*morning sickness*
Fuck.
But she looks so happy to be a mother!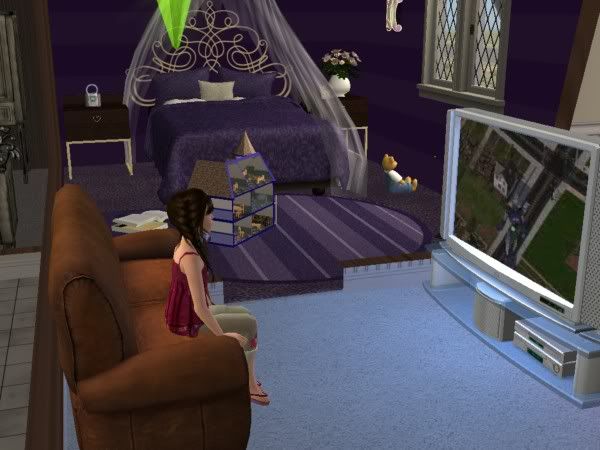 Mia:
*is not too sexy for this couch*
Daniel:
I think Xavier's gay…
YOU DON'T SAY!
Sarah:
OMG I'm pregnant again.
I repeat. Fuck.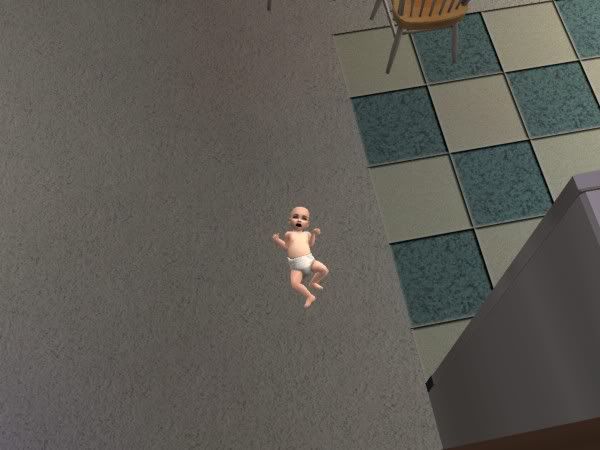 Especially since this is her idea of parenting.
Okay, one, hello, twincest? No wonder Xavier's turning gay. Number two, that's ELENA'S bed. You two are smarter than that.
Muuuuuuuuch better. Even if Mia doesn't know how to use blankets.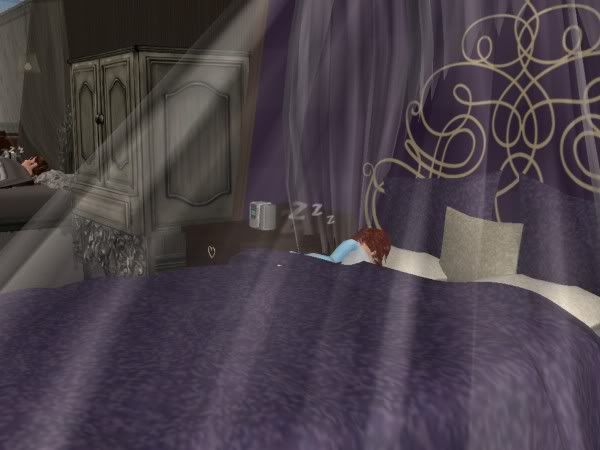 Demon Child Elena:
You escaped my wrath this time, offspring.
NO! BAD Nanny, BAD!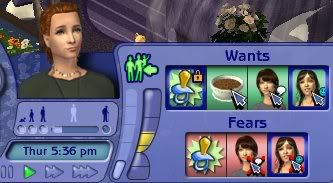 MAKE UP YOUR DAMN MIND.
Elena does her own homework.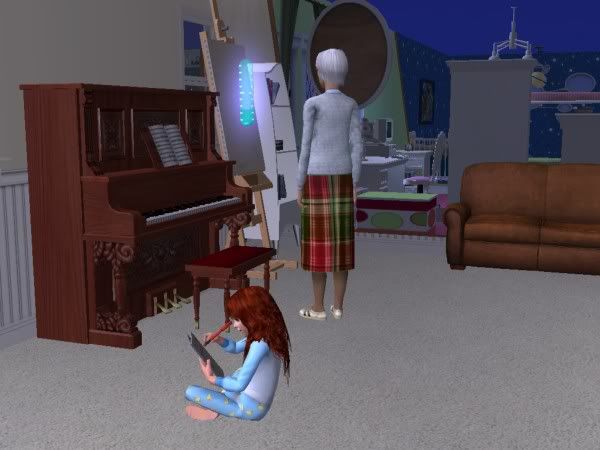 And then Mia's.
And then Xavier's.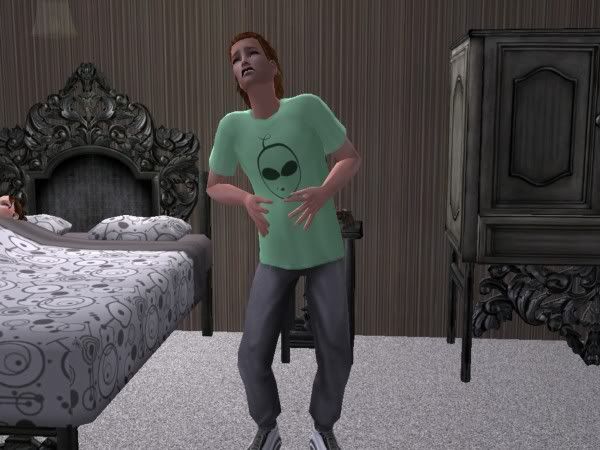 Daniel:
ARGHH.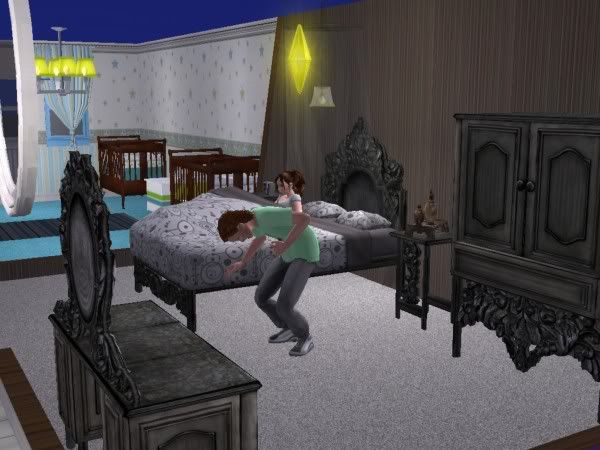 Daniel:
AHHHHHHHHHH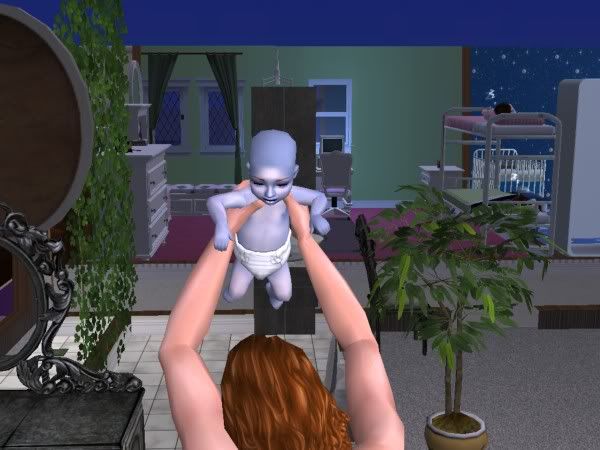 Daniel:
OMG HE'S BLUE!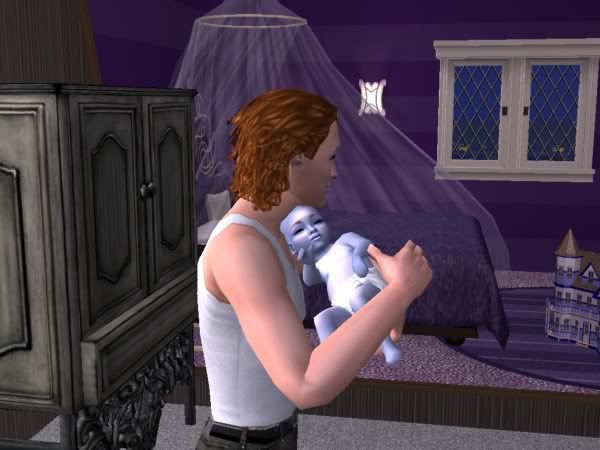 Ryo! And he's got the red hair gene, just like his father. If I ever have a girl alien, she will be named Gwok, promise. ;D
Awwww, Sarah even treats him like her own.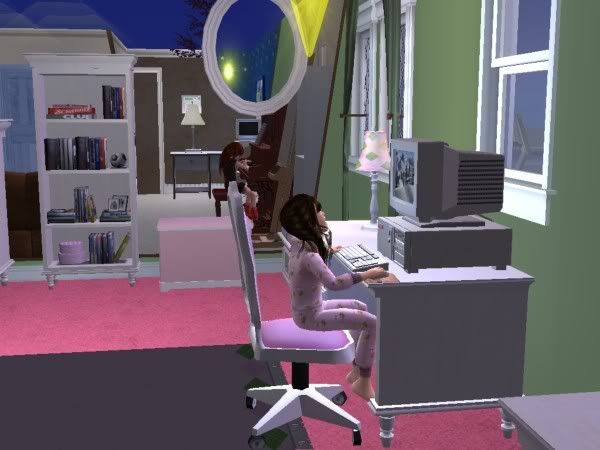 I love this pic, just for the comparison. Mia spends a lot of her time on the computer, and Elena spends ALL DAY AND NIGHT on the piano.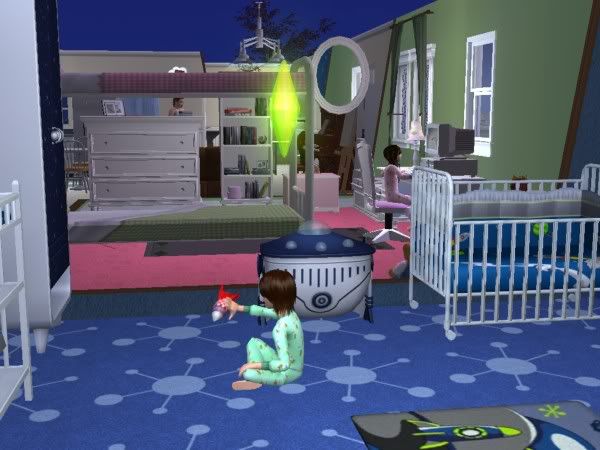 This one's even better.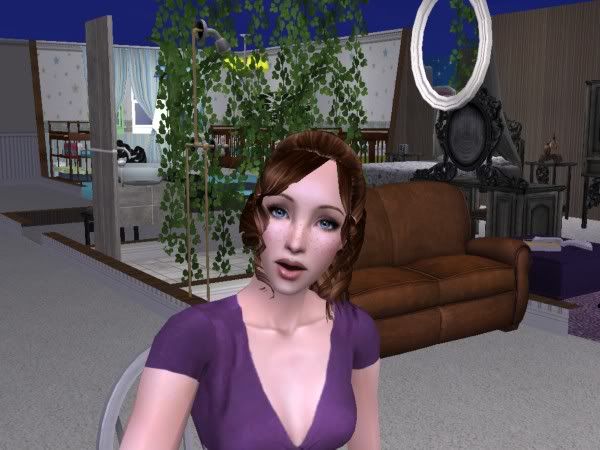 Sarah:
*random surprised face*
Me
MISCARRIAGE WTF DO YOU MEAN MISCARRIAGE
Sarah:
*SOBS*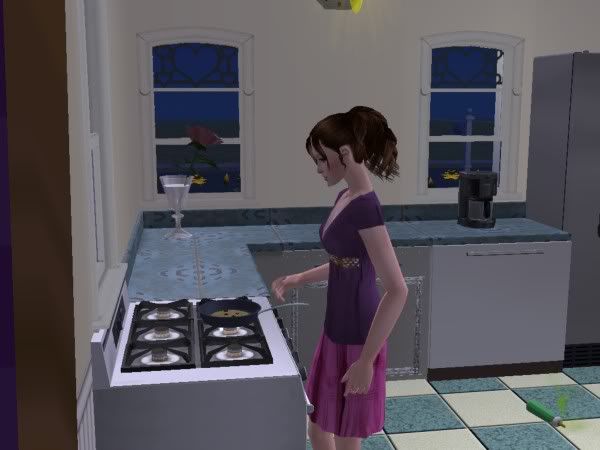 So she makes blueberry pancakes.
And eats them.
Okay, W.T.F. After a day straight of sobbing, she does the pop animation, and now she's at the stage she would have been if she hadn't had the misacarriage. WTF SIMS, WTF.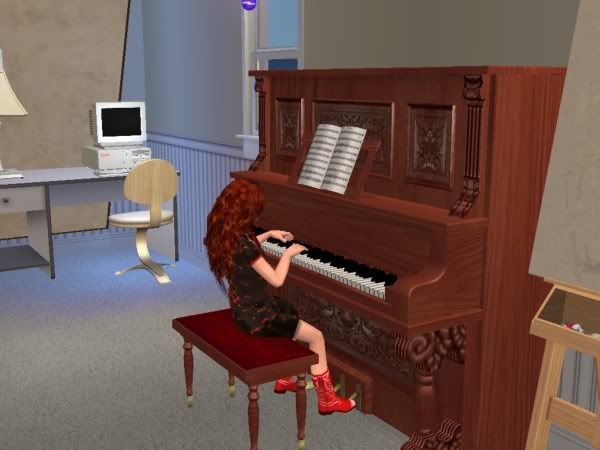 Demon Child Elena:
I WILL NEVER STOP!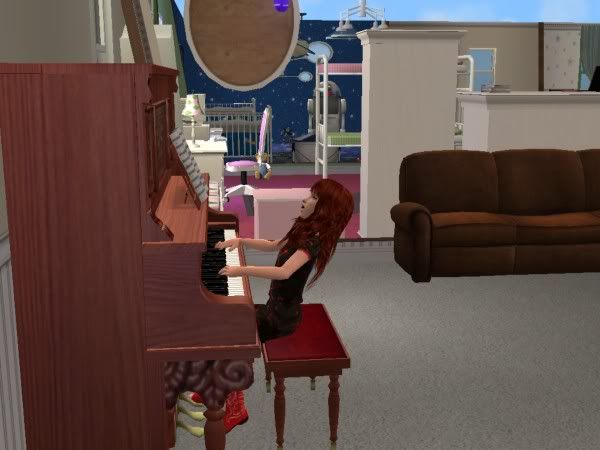 Demon Child Elena:
BWAHAHAHAHAHAHA.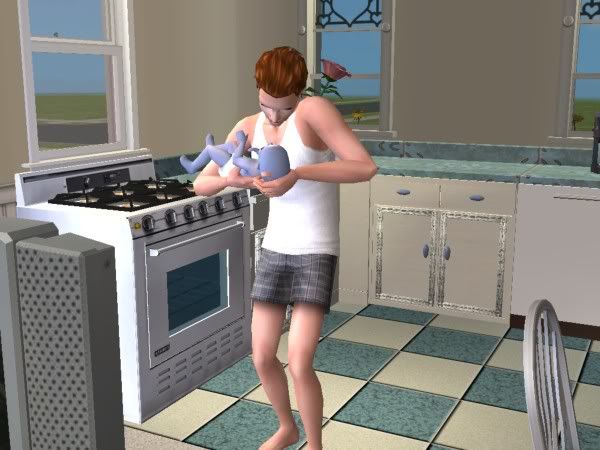 Awwwwwwwwwwwwww.
Mia:
Ugh I hate birthdays.
But it's time for Alexander to grow up!
Well HELLO mini!Justin Timberlake
OMG I JUST WANT TO SQUISH HIM EEE *flails*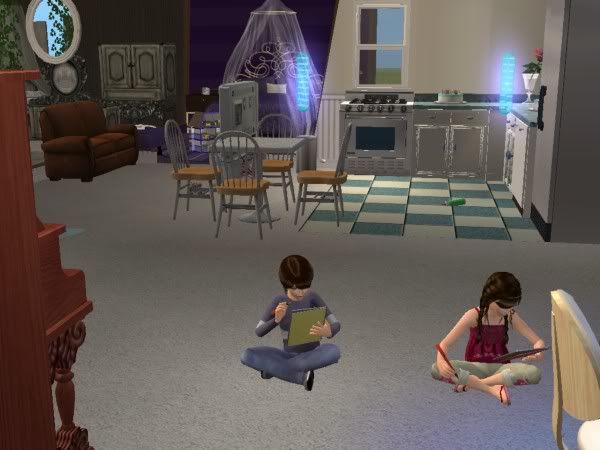 And the twins do their homework together. Awwwww.
Demon Child Elena:
PIANO IS SRS BSNS
Xavier
: Frolicking in the water to classical music is totally not gay!
Um.
Alexander:
Help me mommy I'm stuck in the radio!
Sarah:
Awww, he said mommy. Good boy, honey.
Ryo is at home in his space room.
Oh, so now she loves the music.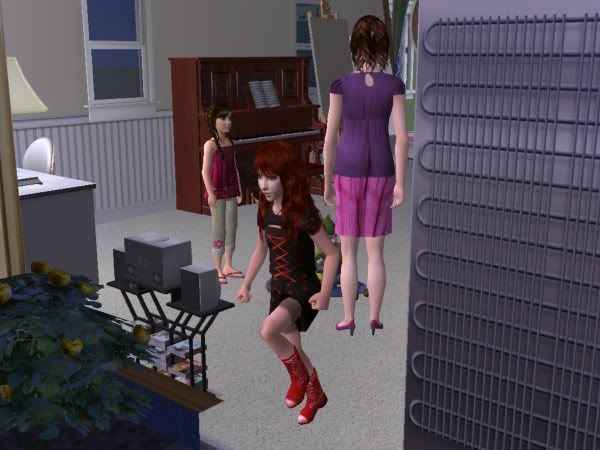 Wait, Elena is stopping her piano marathon?! Why and what for?!
AWWWWWWWWWW.
And it's time for Elena to grow up! Finally!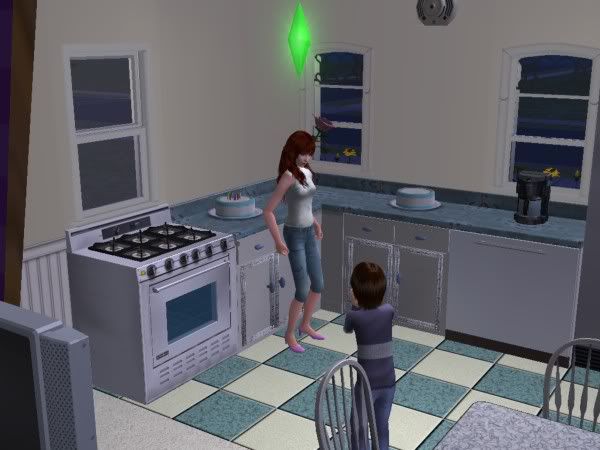 Hell YES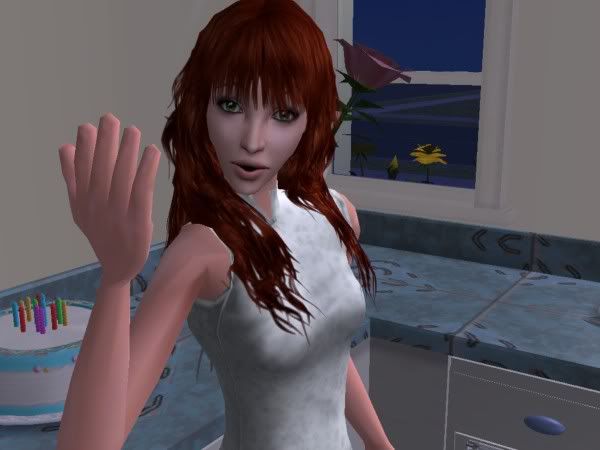 Damn, I wish she could be heir.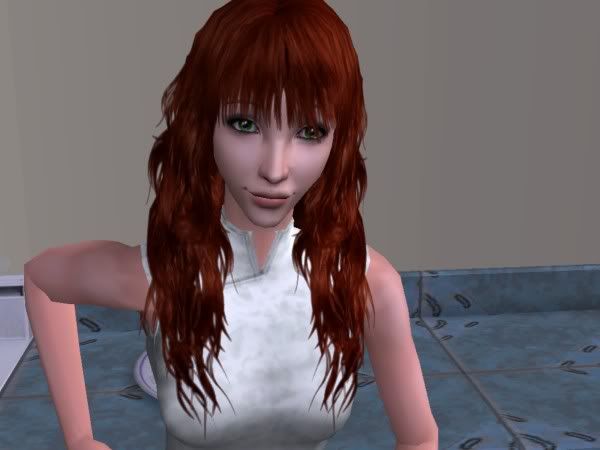 Elena:
I…am so gorgeous.
Elena:
So fine!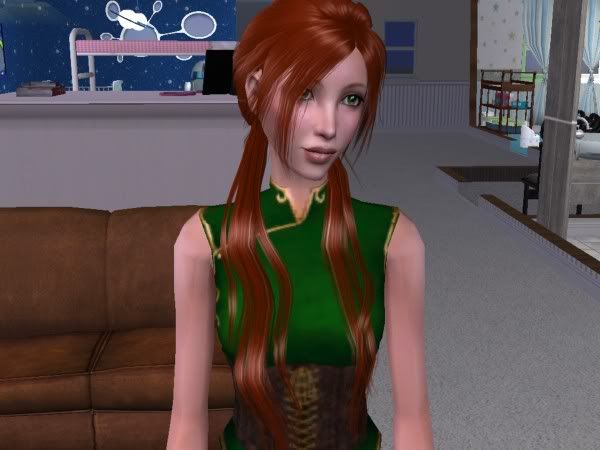 Elena:
*poses*
*stares*
Oh! I mean, um, she seems to have grown out of her evil emo demon thing, and now is, well…yeah. o.o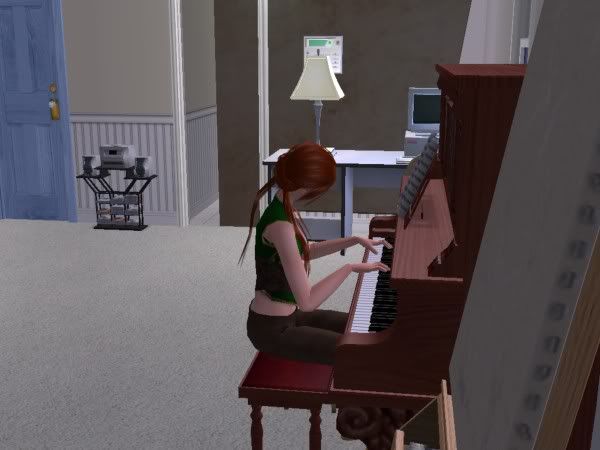 Some things, never change.
Elena:
IT'S STILL SRS BSNS DAMMIT
Xavier
: *WHAM*
Mia:
*giggles*
Uh-oh…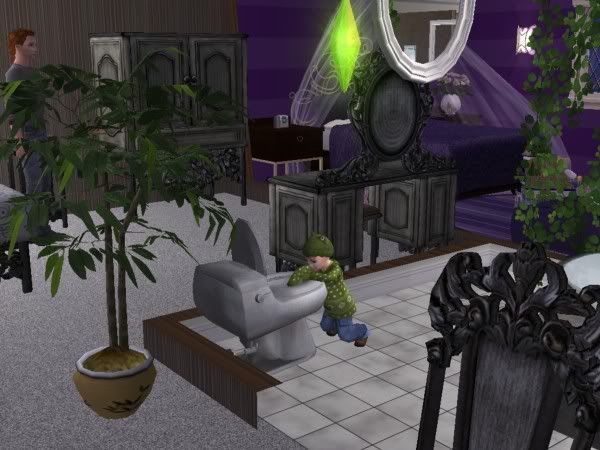 Yup, I saw that coming.
Sarah:
Now you sit right there.
Alexander:
But mommy!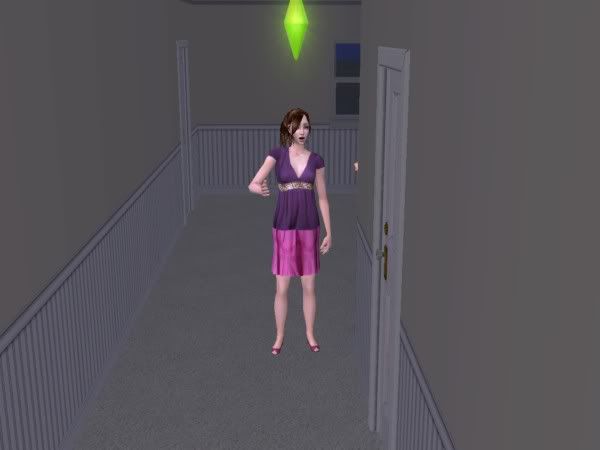 Sarah:
:o
Sarah:
ARGH AGAIN?
Sarah:
NOOOOOO
Alexander:
I think it is about time I make my escape
Sarah:
EAAAAAAAAAAAAARRRRRRRRRRRRRGHHHHHHH
Daniel:
Woah!
The baby has through the wall powers too!
Damn. Jacob, same coloring as all his OTHER siblings.
And oh look, there's another one!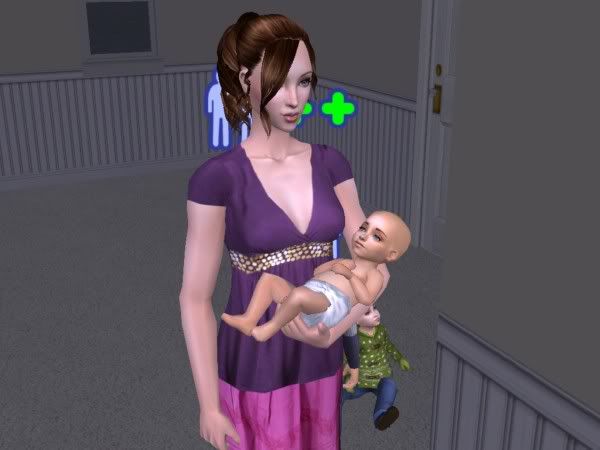 Timothy!
Anyone keeping count?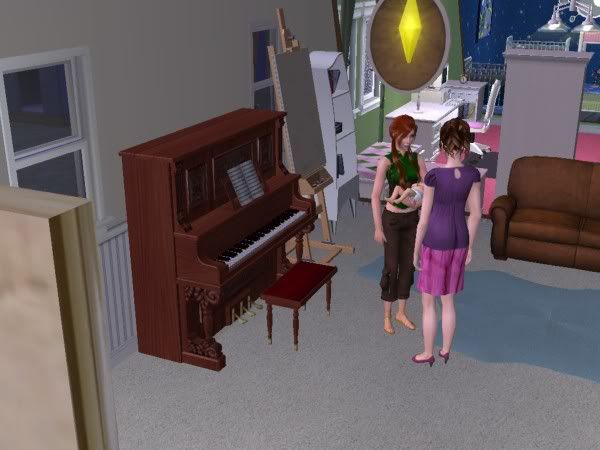 Sarah
: Here, take care of my kid.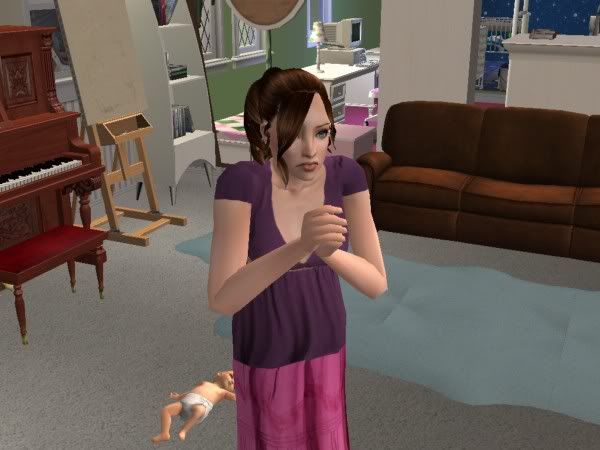 Sarah:
*has suddenly turned into a worry bug for no reason whatsoever*
By the way, the number of pictures with Elena playing the piano in them: 18
Next Up:
El's pre-college dating success
More twins
Ryo, Alexander, Jacob, and Timothy grow up!
Sarah paints!
Everyone passes out!
Plus: THE CAKE IS A LIE!
And more…
Also, a note: I have a big huge list of names to use, but, any requested names (use comments!) get bolded, so I use them first! Request some names!