Last time,
Sarah moved into her house, met Daniel, got engaged, and then found out about Elena, his daughter.
Warnings: Nudity, hormonal sims, evil children, aliens, werewolves, Escher chip bags.
Sarah is not impressed by the new additions to her family.
She takes her anger out on the TODDLER. If Elena has any issues when she grows up, I think we know who to blame them on…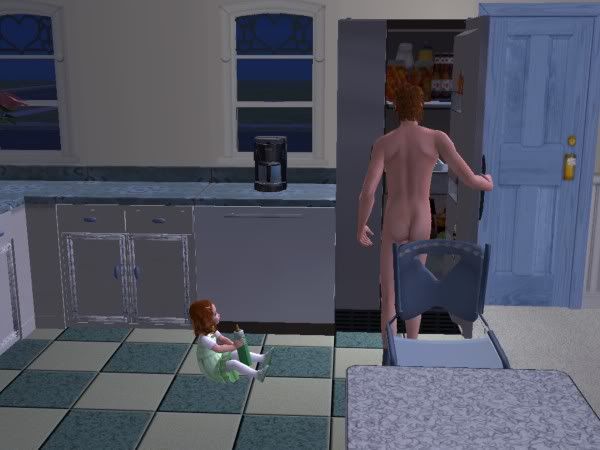 Oh, that is SO appropriate, Daniel.
While we're at it, I promised his stats:
Daniel Richards
Family Aspiration – Become Captain Hero
(Leo)
2 Sloppy
9 Outgoing
6 Active
6 Playful
2 Grouchy
Turn-ons:
brown hair, makeup
Turn-offs:
fatness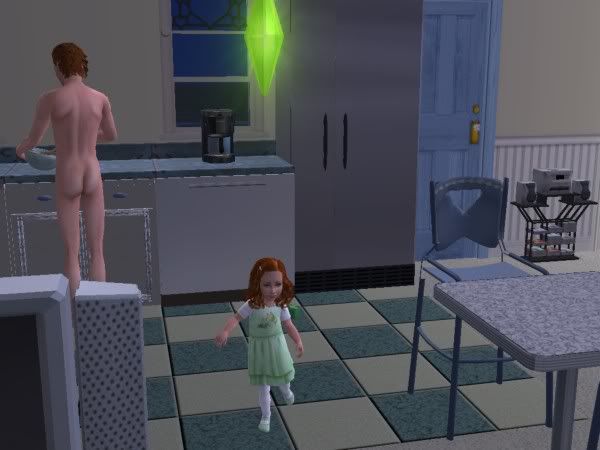 Run, Elena! Run while you still can!
I love how the cuddle in bed. *squishes them*
Meanwhile, Elena is running pet fighting rings in the bathroom. Who else sees a future of criminal activity?
Any normalcy we can credit to Daniel: He's actually being a pretty good father, despite his thing for walking around naked.
God sleeping toddlers are cute.
You're supposed to sit ON the chair, Dan, not IN it.
Daniel
: Dear Diary, today my wife was naked and my daughter screamed. *sigh*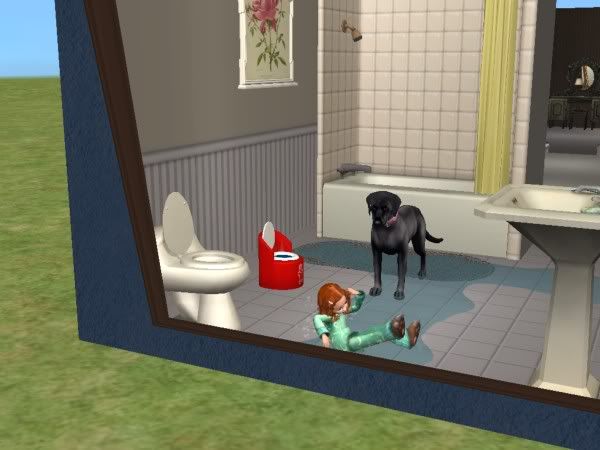 Elena gets right down to business, starting her demon-child career by flooding
her kingdom
the bathroom. Sally is fascinated.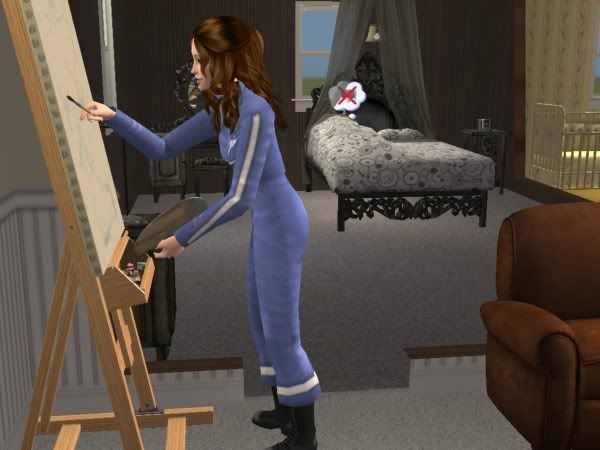 Sarah
: I love painting!
Daniel
: *snore* Damn TV. *snore*
Sarah
: OMG I'm fat!
No, dear, you're pregnant…
Apparently this means it's time to make out.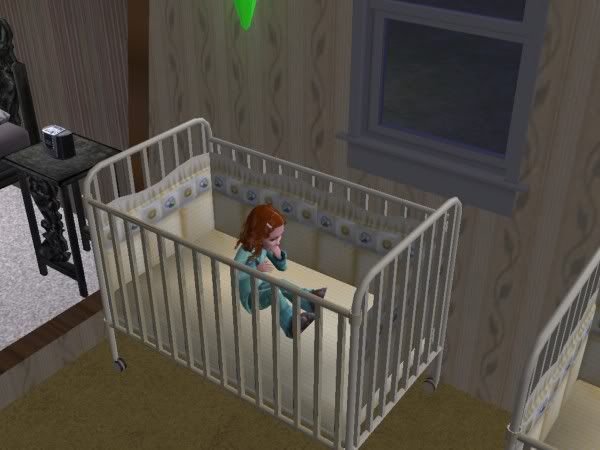 Elena entertains herself by eating her own hand. It has a flavour.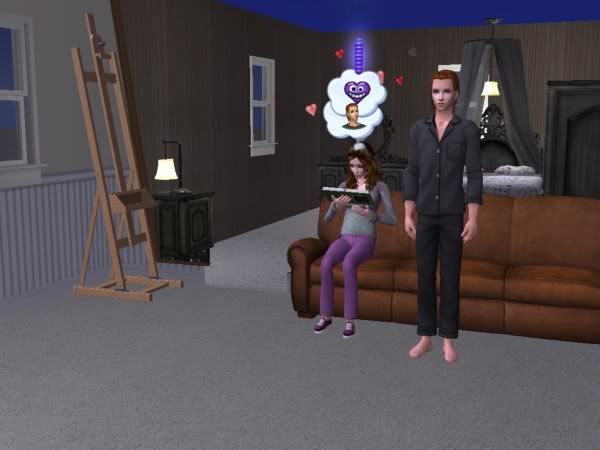 Sarah, you're supposed to be studying cooking, not thinking about sex. *headdesk* Damn whormones.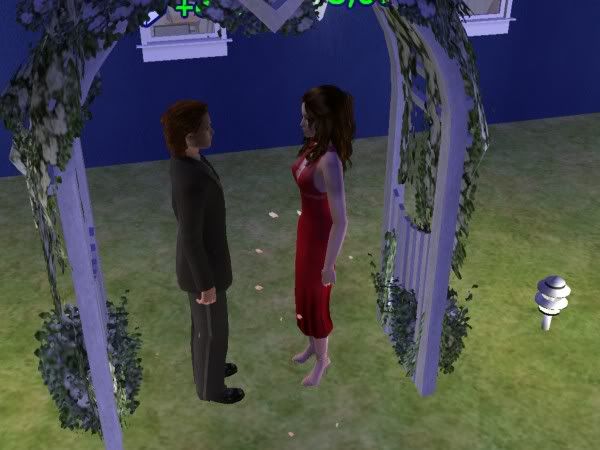 It's wedding time!
Everyone's happy, including the mother-in-law.
Dude, stop checking out the bride.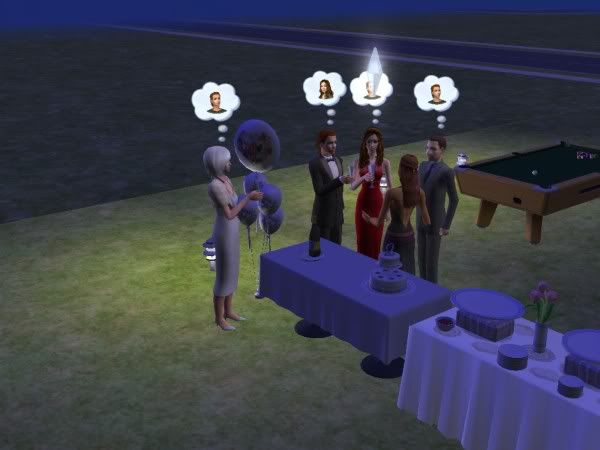 OMG I had never seen them toast before!
Apparently this calls for, ahem, celebration.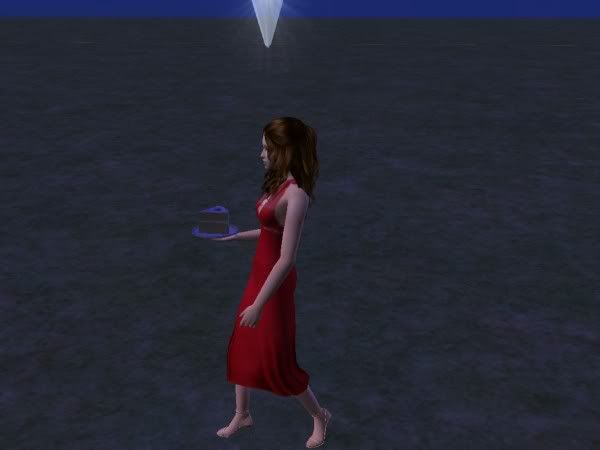 Pregnant women of the world would like you to share your baby hiding skills, Sarah.
Sarah
: Caaaaaaaaaaaaaaaaaaaaaaaaaaaaake…
While her Dad gets married, Elena talks to herself about how pretty she is. *pats*
Sarah
: OMG I'm even fatter!
*headdesk*
See, parenting skills.
Or not.
Demon Child Elena
: Hee hee hee, if I just keep splashing, they won't suspect anything when the Mother Thing dies.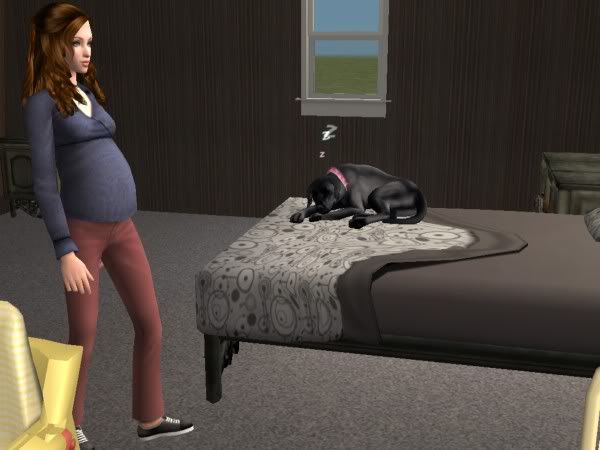 I had also never seen a dog sleep on the bed before! So cute! Also, Sarah is REALLY pregnant now…that has to be more than one.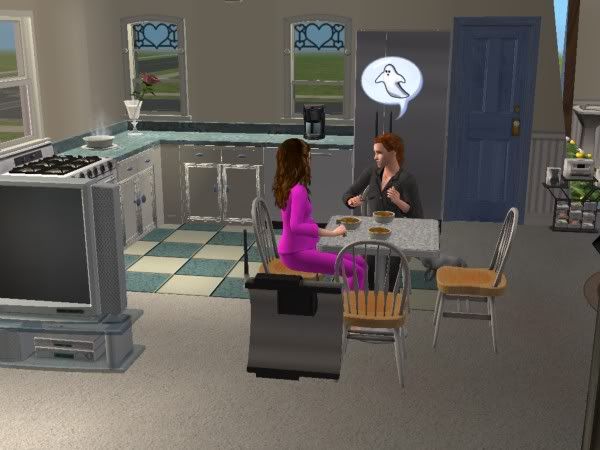 Daniel
: So, I think there's a ghost eating all our food.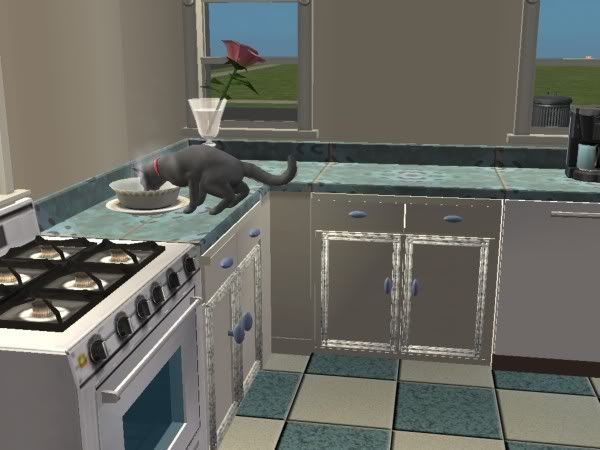 Sarah
: No Dear, that's the cat.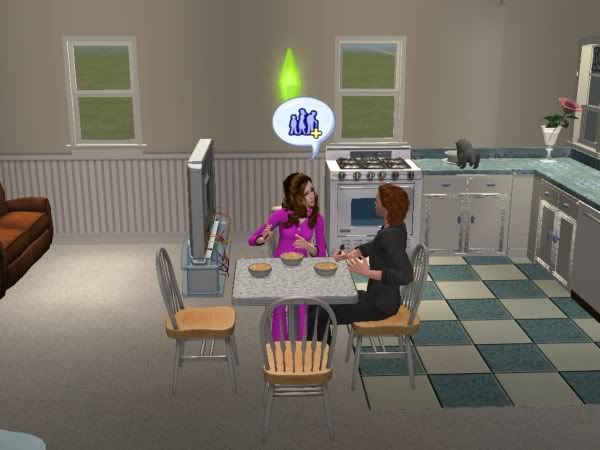 Sarah
: He's a part of our family, you see.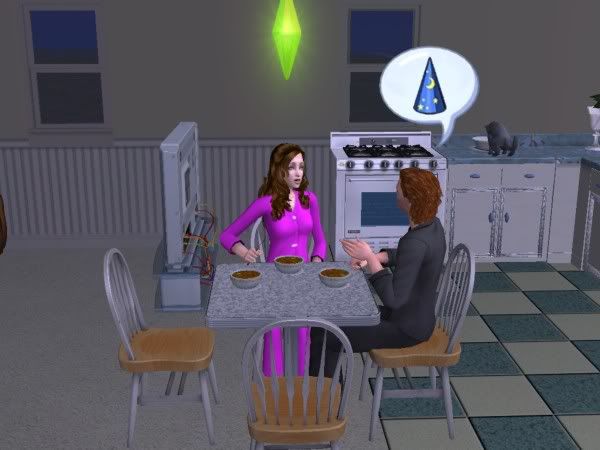 Daniel
: Is he a magical cat?!
Daniel
: Can he do crystal ball readings?!
Sarah
: *sigh*
Sarah
: OH GOD WHAT'S HAPPENING?!!
You're giving birth, dear.
Sarah
: That's impossible, I haven't had se…oh shit.
A boy, Xavier!
Mama's hair, Daddy's eyes.
Sarah
: WTF?
Twins, dear.
A girl, Mia. Same coloring as her brother.
Elena is not so happy about this, and her Dad is still going through his nudist phase.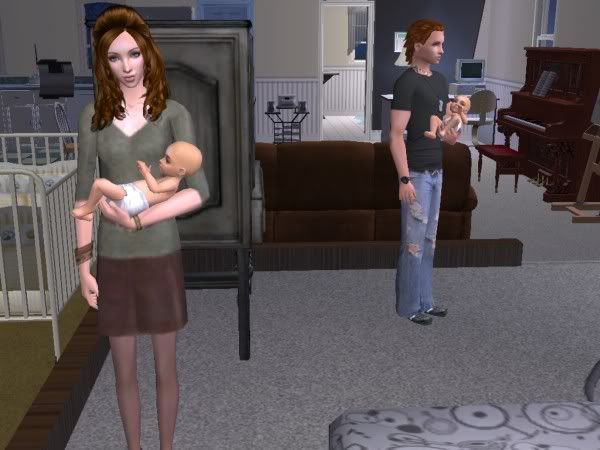 Cute! Except…where's Elena?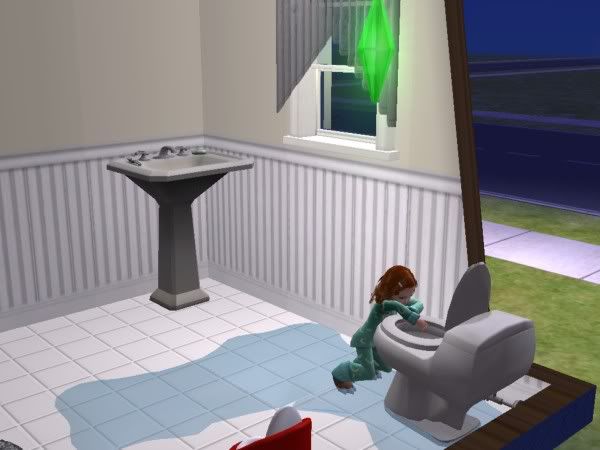 Oh, she's fine.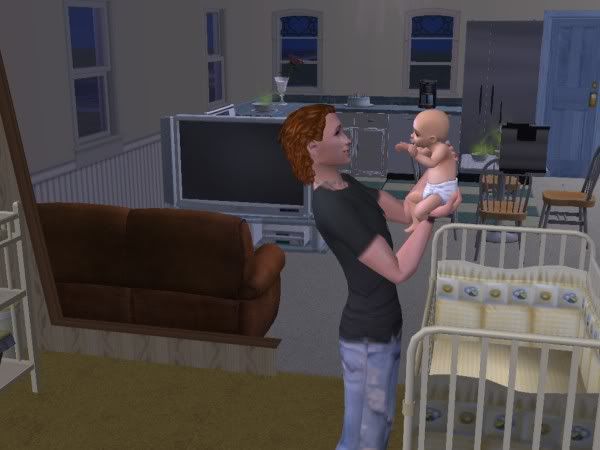 Daniel continues to be a good parent.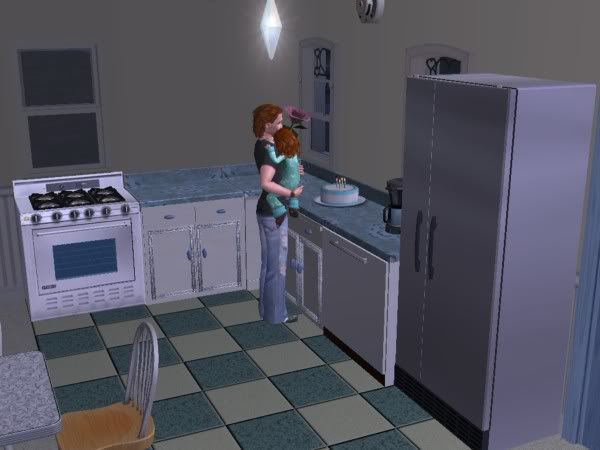 And it's time for Elena to grow up.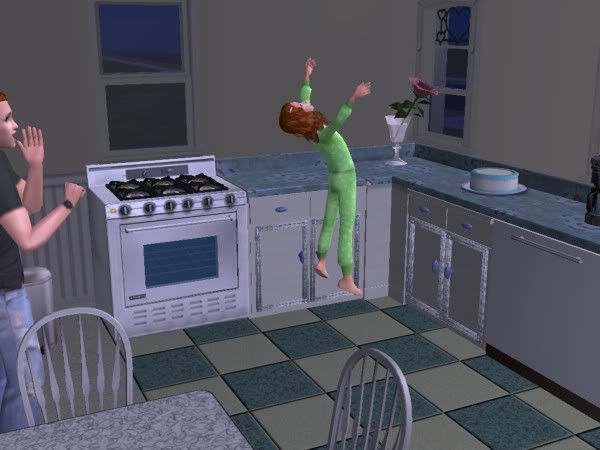 She defies gravity!
Demon Child Elena
: Hey, not bad!
Demon Child Elena
: *grabs the food and RUNS*
Oh shit, this is going to be one of those children that runs everywhere.
Elena after a quick makeover. Guess who's going to be the emo of the family?
Demon Child Elena
: Babies stink!
No duh, kid, no duh.
However demon she may be, she is still really cute when she sleeps.
Or at least entertaining.
Demon Child Elena
: RAWR I HATE YOU MR. FLUFFY YOU SUCK LIFE SUCKS RAWR!!!
Demon Child Elena
: I love you Mr. Fluffy!
Completely sane, really.
Sarah
: What do I do with this THING?
Ah, first time mothers.
o.O
Elena isn't actually a neat freak, but she really likes cleaning. The only problem is, her father and Sarah just woohoo'ed in that bed.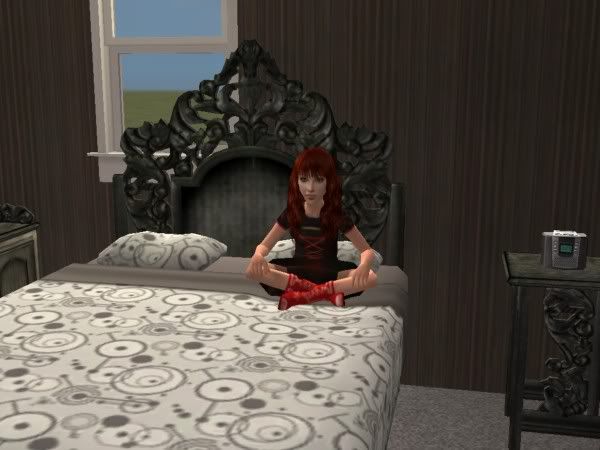 You really don't want to be sitting there, El.
Because god forbid you actually put them IN the crib.
Dinner, together, without fighting! It's a miracle!
Sarah
: Dear LJ, my suspicions that Elena is plotting my death are rising.
Sarah
: Case in point, she continues to make that dreadful noise.
Nobody appreciates poor Elena's persistence.
A few additions were made to the house, namely a room for Elena and a room for the pets, as well as a minivan.
Pet Shack. My pic of Elena's room was accidentally deleted, but you can see it at the very end of this entry. It is purple and dark and girly, and will do her well into her teenage years.
My growing up pics were also deleted, but Xavier and Mia grew into very cute toddlers.
Why Daniel Should Get The Dad of the Year Award
He bathes his kids.
He teaches them to walk, talk, and go to the potty.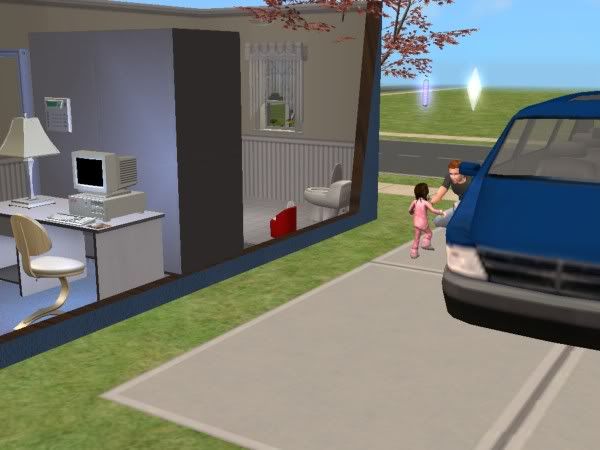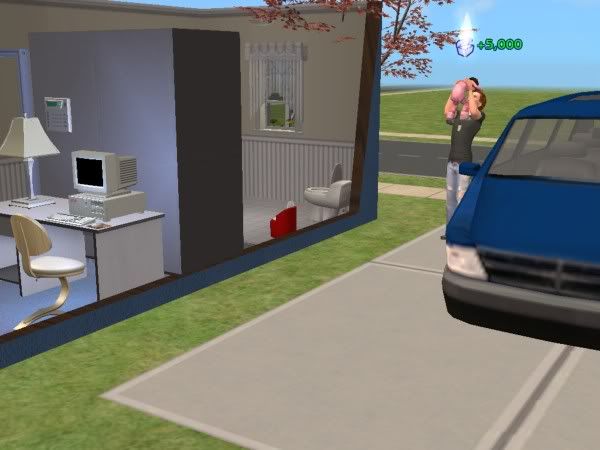 With no favourites.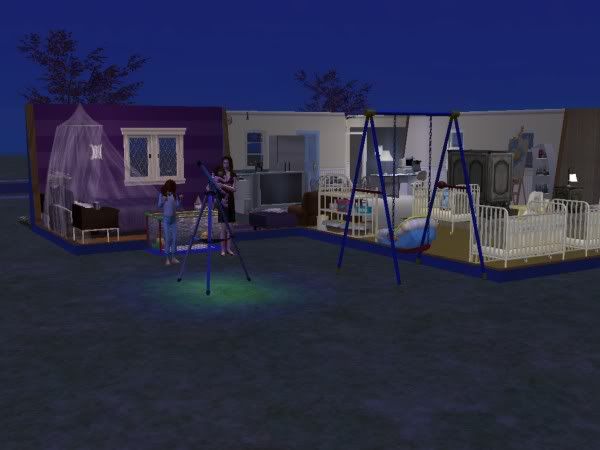 And he sacrifices himself to the aliens.
Sarah
: You bastard, who's going to take care of the kids while you're gone?!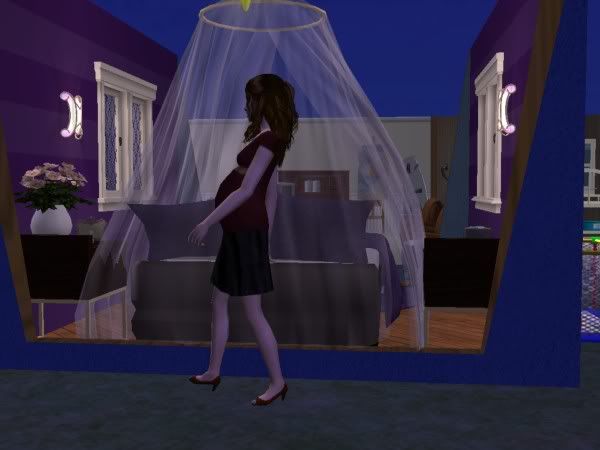 She's pregnant again, by the way.
Xavier
: NOOOOOOOOOOOOOOOOOOOOO!
Sorry kids, Daddy has to go be impregnated. I hope your hands are tasty.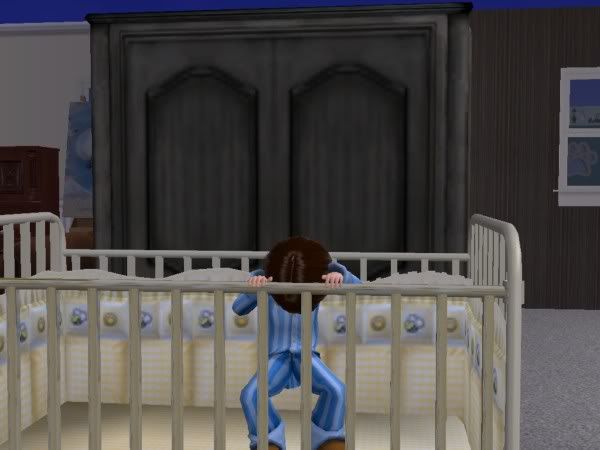 Xavier
: *sobs*
Aliens:
You have been impregnated with a specimen of our kind. Common symptoms include emesis during the early hours of your earth day, emotional instability, and swelling of the stomach. We are not liable.
Aliens:
Your new alien child may attempt assimilation. Resistance is futile. Goodbye.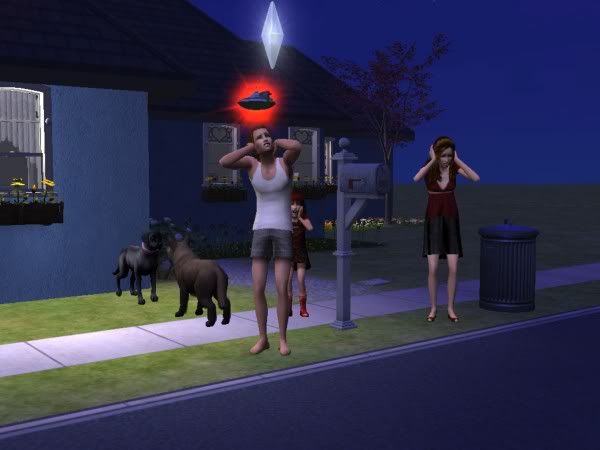 Everyone
: WE CAN'T HEAR YOU OVER YOUR ENGINE!
Awww, Sally's making friends with the…wait, wolf?!
Uh, Sarah…
I WARNED YOU.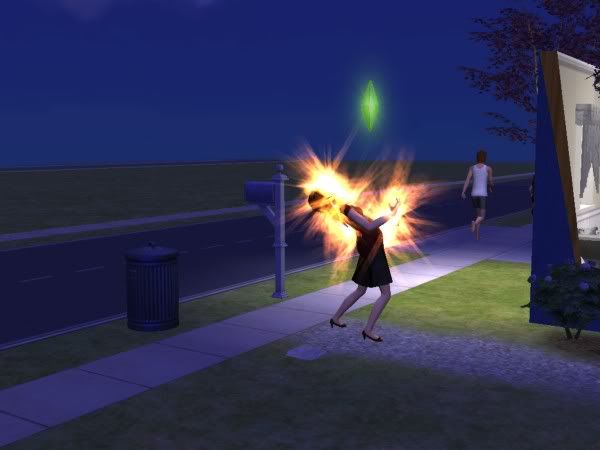 Sarah
: HAWOOOOOOOOOOOOOOOOOOOOOOOOOOOOOOO!
Fuck.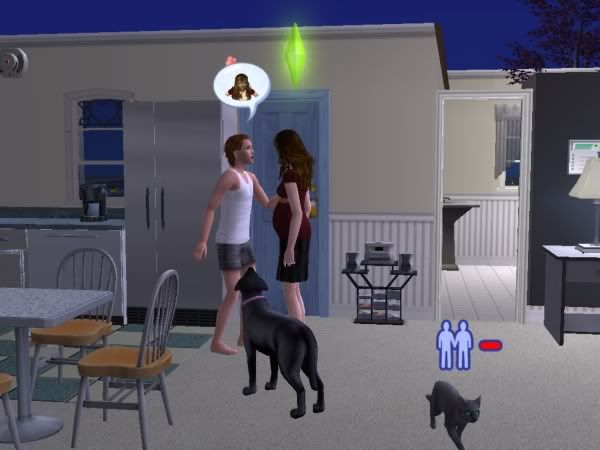 Daniel
: Don't worry baby, I still think you're hot!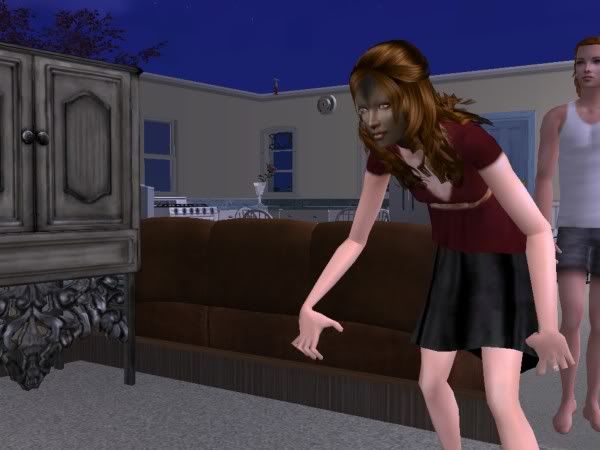 Sarah
: Really? Good, follow me to the bedroom…I'm feeling…wild.
*insert lots of growling THAT ACTUALLY HAPPENED IN THE GAME*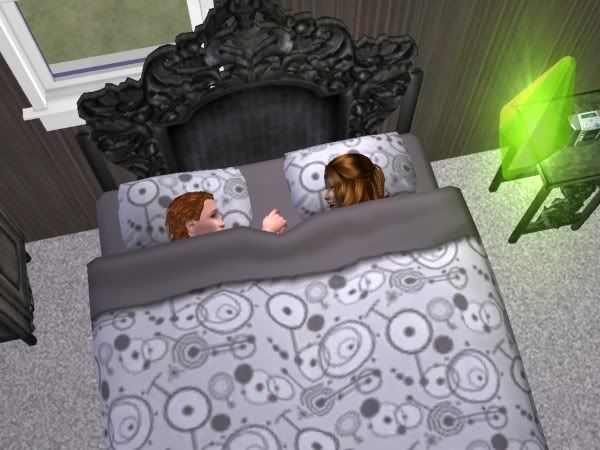 Well, at least they look happy.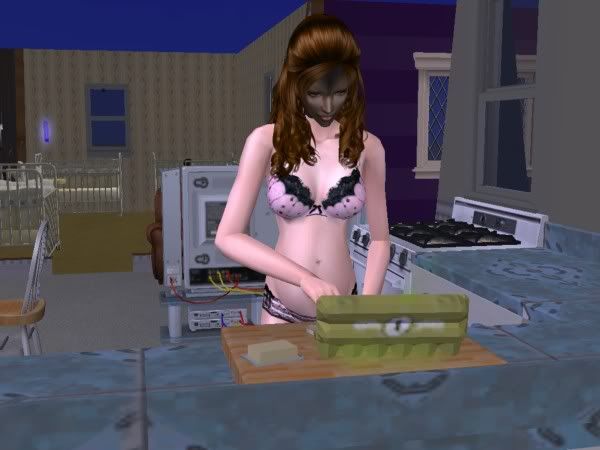 Pregnant half-naked werewolves ftw.
Daniel
: *sobs over his memories of anal probing*
Oh, they got two new pets. A boyfriend for Sally, Sam.
And a girlfriend for Gizmo. Her name is Gadget.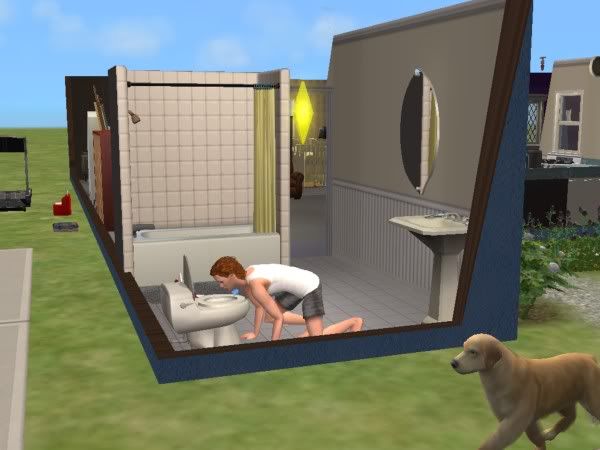 They did warn you about this, Dan.
Cute toddler intermission.
You DO realize only one of you needs to cook breakfast?
Sometime around now Sarah was cured.
Sarah
: So, I'm thinking I want another baby, but I'm not so sure, I mean it's painful. But you wouldn't know, since it's not like
you
could have a baby…
Daniel
: Yeah, yeah, babies…
Daniel
: Let's talk about the weather, shall we?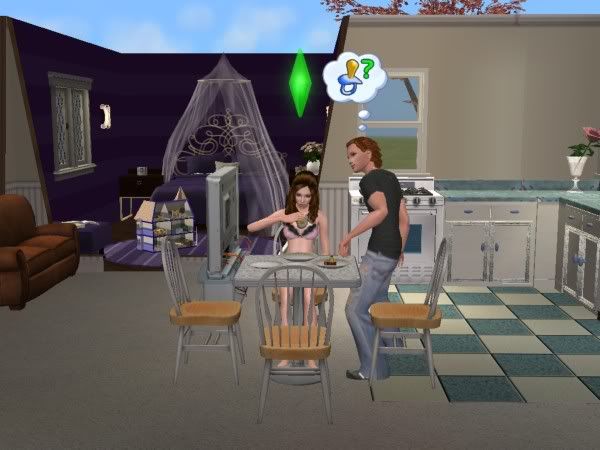 Daniel
: HTF am I pregnant dammit?!
I dunno, but your wife went into labour while you were at work.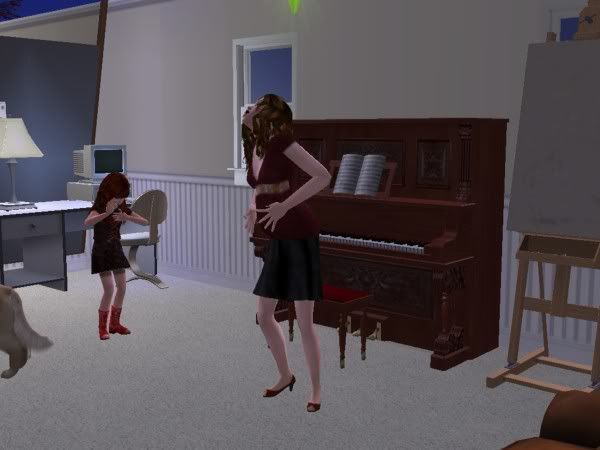 Sarah
: OH GOD NOT THIS THING AGAIN!
Demon Child Elena
: Hee hee, the Mother Thing is in pain!
Sarah
: ARRRRRRRRRRRGH!
Demon Child Elena
: Haha, this is great!
It's a boy! His name is Alexander and he's got the same coloring as the twins.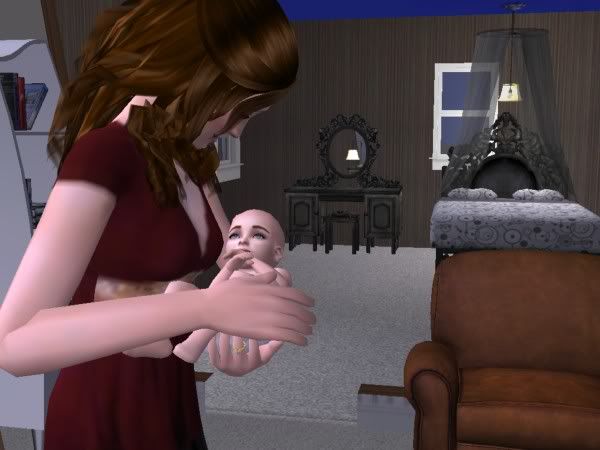 Isn't he cute?!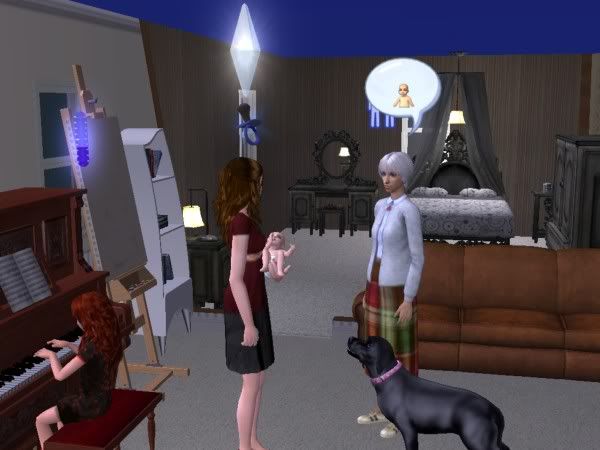 El welcomes him in her own way, Sarah is ecstatic, Sally wonders if it's food, and the Nanny is so not looking forward to another screaming baby to look after.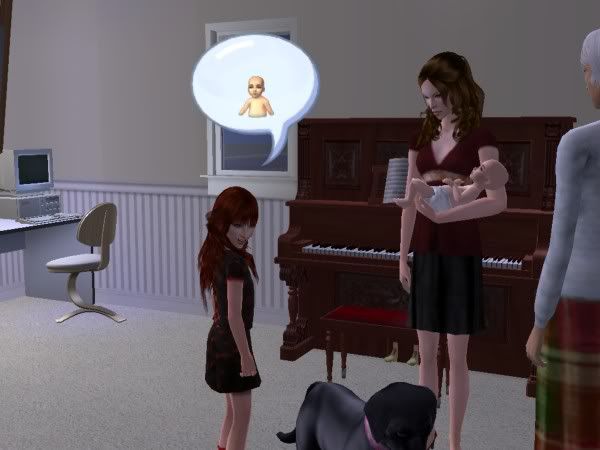 Demon Child Elena
: If I pretend I'm happy, they won't suspect anything when the child dies.
Sarah
: Stay away from my baby, bitch.
Oh look, a skunk.
Sarah
: Welcome back, babe. You have a new son, your children are hungry, and there's a skunk in the backyard that needs to be taken care of. I'm going to go have a bath. When you're ready to make me pregnant again, let me know.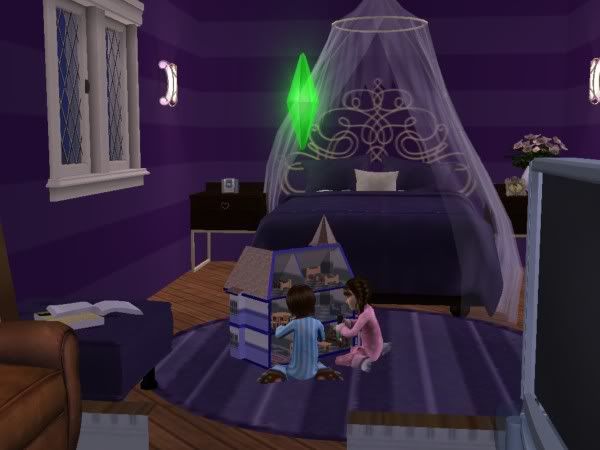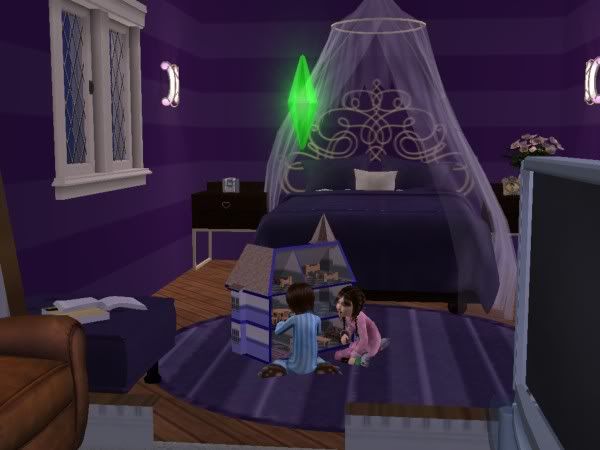 And we end with twin spam.

Next Up:
Alien Baby!
Elena grows into her emo, and the twins turn into kids.
Moar Awesome Father Spam.
Puppies? Kitties? Maybe?
Elena's stats ACTUALLY get posted.
And more…
Edit:
Please Answer This Poll